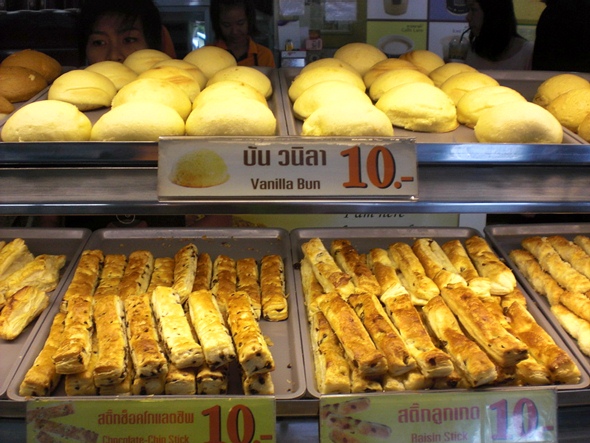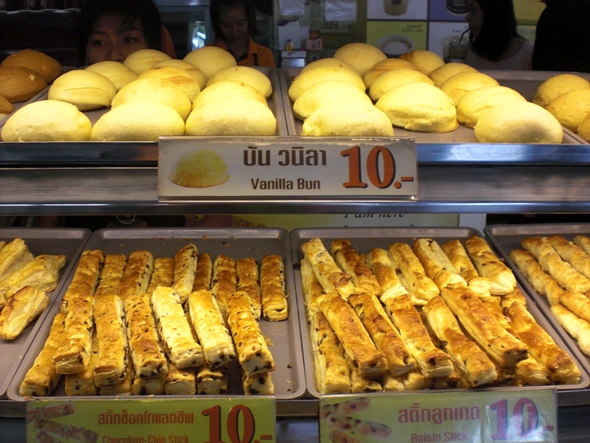 A few months ago, a Thai friend and I caught the early underground train to Bangkok's Hua Lamphong railway station to go to Chinatown. Arriving at Hua Lamphong at only 7am and desperate for coffee and a snack, we saw the enticing sign of a Mr. Bun bakery. A Bangkok chain bakery with more than 25 locations, Mr. Bun is just about the most popular bakery in town.
After all, at only 10 baht per piece (35 cents), they sell the cheapest buns and pastries going. Up until that moment, I'd never eaten a Mr. Bun Mexican-style bun or a flaky pastry. Since then, if I don't get my Mr. Bun fix a couple of times a week I'm miserable.
What Is Mr. Bun? – A few years ago, everyone in Bangkok seemed to be on the 'bun craze'. Thais love baked goods and particularly anything that's some type of sweet bread, so when a Malaysian chain bakery called RotiBoy opened several branches and the smell of their baking coffee buns wafted under everyone's noses, soon there were lines around blocks all over the city wherever RotiBoy opened. Seeing the success of RotiBoy, a Thai business man set about opening his own bakery chain and called it 'Mr. Bun'.
Rather than sell the Malaysian coffee bun though, Mr. Bun went in a different direction and introduced a Mexican-style bun to the bun-crazed citizens of Bangkok. In only a couple of years, Mr. Bun had grown so fast, he soon had more than 25 locations. Now, more than five years later, those 25 locations have expanded to more than 100 all over Thailand with more being added every year. Current figures show Mr. Bun sells more than 200,000 buns a day. Mind-blowing, eh?
 Baked Goods at Mr. Bun – The big selling point of Mr. Bun is the cheap price of all the baked goods their branches sell. For a Mexican-style bun in original coffee flavor, or vanilla, coconut or chocolate chip, the price is only 10 baht (33 cents). Placed in your hand, warm and steaming from the oven with the delicate smell wafting deliciously around, and with a cup of hot coffee in the other hand, a breakfast at Mr. Bun is a precursor to what heaven must be like. I kid you not.
If you're not a bun fan, no worries here either. Mr. Bun sells a variety of other pastries, with other specialties like raisin fingers, chocolate fingers and coconut fingers – layers of puff pastries, filled with raisins, chocolate or coconut. – oh, oh, yum. An iced chocolate latte goes the best with these and, my, my, my, that's lunch too.
Of course, Mr. Bun isn't particularly healthy if you eat there every day. Quite high in cholesterol and sugar, you don't want to be stuffing down a coffee bun, a raisin finger and an iced mocha latte every day – not if you still want to fit in your jeans. But sometimes, at the price of only 10 baht, seriously, who can resist?
You'll find Mr. Bun locations all over Bangkok. Hua Lamphong train station has a nice one, with a large seating area where you can sit on a patio and watch the crowds stroll by. Also look for Mr. Bun at Platinum Mall, Mahboonkrong Mall and other malls all over the city, as well as in stand-alone locations. With more than 100 Mr. Bun shops in Thailand and more still opening, there's one near you no matter where you are.