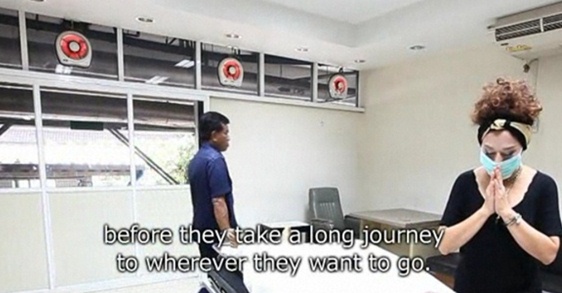 Nauvarat Yuktanan is one of Thailand's most famous soap opera stars. But, when she's not filming one of her latest soaps or movies, Nauvarat Yuktanan is at Ramathibodi Hospital in Bangkok making up the dead.
Khun Nauvarat uses the make up skills she has learned over thousands of hours in Thai movies to make up the faces of those who have recently died, helping prepare them for the ceremonies their family will hold before the final cremation ceremony.
In this interesting video from the Bangkok Post, watch Khun Nauvarat talk about why she likes to make up the dead, and how she believes it helps her make merit (something every good Buddhist should do), as well as how it puts celebrities like her in a better light.
Funnily too, Khun Nauvarat says when she stays in hotels she never stays alone, as the thought of ghosts frightens her. But, she has no fear of the dead she beautifully makes up, as she knows they would not hurt her.