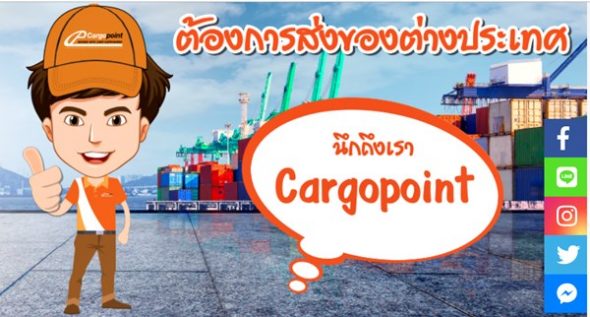 Millions of tourists visit Chatuchak Weekend Market in Bangkok every year, and hundreds of thousands of them buy so much stuff they have to ship it home. Luckily, Chatuchak Market has several excellent shipping companies, right there at the market.
One such shipping company is CargoPoint Express. With three separate shops at the market itself, they're the largest shipping company in the area and, with efficient service and inexpensive prices, they're also one of the best.
Where is CargoPoint Express? – Chatuchak Weekend Market with its 16,000 stalls and over 400,000 daily visitors has various shipping companies, that will box and ship anything you buy to just about anywhere in the world.
CargoPoint Express has set up three locations at Chatuchak, so you don't have to drag your incredibly heavy items miles before you can drop them off to be shipped.
You'll find their first location at Section 28, Room 10 of the market. The second is at Section 7, Rooms 237 and 239, and their last spot at Section 26, Room 299 and 300.
To find each market section (Chatuchak Weekend Market is enormous and you can easily get lost), grab a free market map at any of the gates, or from one of thousands of market stalls.
Or, if you visit a CargoPoint location first, before you start shopping, they can give you a leaflet with a handy little map of all their locations.
What Services Does CargoPoint Express Offer? – CargoPoint Express does everything you'd expect a shipping company to do.
They box your items, weight your items and ship your items – by one of three ways.
Air Freight: CargoPoint Express can ship all your items the fast way, by air freight. They'll either do Door to Port, or Door to Door, depending on what your needs are. They also have a priority rate and an economy rate, depending on how quick you need your packages and how much you want to pay.
Sea Freight: Sea freight is cheaper and, again, offers Door to Port or Door to Door. They can also send a Full Container Load, or a Less than Container Load (meaning your stuff will share someone else's container – which is a lot cheaper).
Trucking Service: If you just want to ship something within Thailand or to Malaysia, Singapore or Vietnam, CargoPoint Express can ship it via truck for you – Door to Door.
Efficiency of CargoPoint Express – I recently bought 14 items from Chatuchak Weekend Market for my parents for Christmas. Not feeling like schlepping them home, packing them, then schlepping them to the post office, I opted to drop everything off at CargoPoint Express.
From the moment I walked through the door, I knew CargoPoint Express was a good choice. English-speaking employees (and some speak a few other languages too), they had my items logged in, weighed and were already beginning to box them up when I left.
From arriving to paying and leaving, my whole transaction took less than 10 minutes. Such an easy way to ship a box of gifts home to America, completely hassle-free.
Price of CargoPoint Express – What you pay for at CargoPoint Express is the cost of packaging plus the cost of shipping. That's it. The large box of items I shipped from Bangkok to the U.S. didn't cost me much more money than it would have at the post office (around 140 baht or $4 more).
When you factor in, I would have had to spend time packaging my items, then more time going to the post office and at least 130 baht ($4) round-trip to get there, mailing the package by CargoPoint Express actually worked out cheaper and was such a great time saver.
I have lived in Thailand for years and, in the past, have always shipped items I have bought at Chatuchak Weekend Market at the post office myself. In the future, I won't hesitate to ship everything I buy at J.J. through CargoPoint Express.
They are efficient, friendly, helpful and so easy to use. Plus my packages arrived at my parents' home on time, with everything packaged perfectly, safe and unbroken.
What more could you ask for?