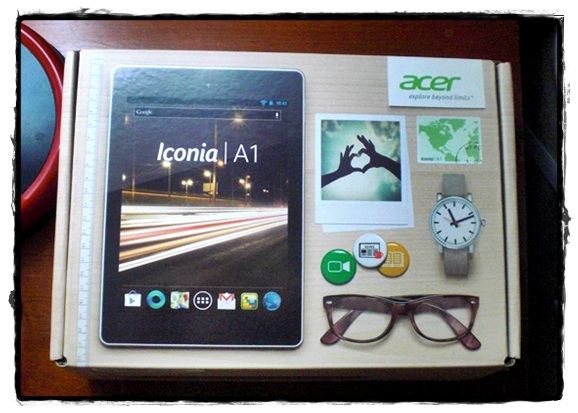 New lower permanent price for Acer Iconia A1 in Bangkok
I was at Fortune Town mall in Bangkok, Thailand yesterday helping a friend choose a new laptop and, while there, I was interested to see a new promotion for the Acer Iconia A1. Normally selling for 6,290 baht ($199.75) the Acer Iconia A1 has come down in price in the last couple of weeks, to a new permanent price of just 5,990 baht or $189.95.
When I asked the Acer salesman why the price had suddenly dropped, he said Acer was going to be running a lot more promotions in Thailand in the coming months, and this was just one of them, as they're trying to capture the Thai low-end tablet market.
Is the Acer Iconia A1 worth buying?
Personally, after playing with a friend's Acer Iconia A1 for a few hours and seeing various YouTube video reviews on the tablet, if you're looking at buying a tablet under the $200 mark, I don't think you can do much better than this.
The tablet comes with a 16GB of storage, a 5 mega pixel camera (you can take photos from front or back), Wi-Fi, a slot for an up-to 32GB mini SD card, GPS, a 7.9 inch multi-touch screen and a whole lot more.
I've looked at a slew of low-end tablets in Bangkok over the last few months and this one is the absolute best I've seen for the money so far. Particularly as the screen is quite large and the tablet itself has a lot of power. You should see how pretty YouTube videos look on it.
Just remember, if you do decide to buy it, spend a little more and get the 250 baht ($8) plastic screen protector put on it, as it goes a long way towards protecting your screen from scratches. Every Thai I know had one put on their tablet. No wonder they all still look perfect.
Directions for Fortune Town mall
If you're interested in buying an Acer Iconia A1 in Bangkok and like this new promotion, it's running at every Acer dealer at Fortune Town and there are quite a few.
Just take the MRT underground to Phra Ram 9 station from any station on the line. Fortune Town mall is next to it.