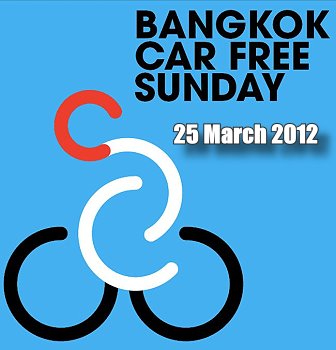 There's a very cool organization in Bangkok called Bangkok Bicycle Campaign that every few months organizes a Bangkok Car Free Sunday, essentially an organized bike ride, in an effort to promote cycling in Bangkok instead of cars or any other motorized vehicle, and to help remind people about being environmentally friendly.
Anyway, their next Bangkok Car Free Sunday is on Sunday March 25th with the bike ride starting at 7:30am and going on until around 2pm.
You can often borrow bikes at the event itself, although if you need to you'll have to get their very early as they go fast, or you can take your own bike. But, either way, it's a great way to make some new friends and to see parts of Bangkok and the surrounding area that you may never normally see. Be warned though, it's very hot and you will sweat — so make sure you drink lots of fluids.
On March 25th, this is their schedule:
7:30 a.m. Meet under the Rama IX Bridge on the Thonburi side.
8:00 a.m. Set off on the ride to Phra Pradaeng District in nearby Samut Prakan
8:30 a.m. Visit Wat Paichayonponsep Ratchaworawihan which dates back to Rama III
9:15 a.m. Arrive at Lad Pho Watergate, a canal on the Chao Phraya River
10:00 a.m. Visit Si Nakhon Khuen Khan Park and the nearby Siamese Fighting Fish Gallery
11:00 a.m.  Visit Wat Bang Kobua along the Chao Phraya River
11:30 a.m. Visit Bang Nampheung Floating Market and eat snacks and meals
1 p.m.-2 p.m. Return to Rama IX Bridge
You can also keep a check of any changes or updates at their Facebook page. Of course, most of it is in Thai, but you can get the guist with Facebook's handy 'See Translation' tool.