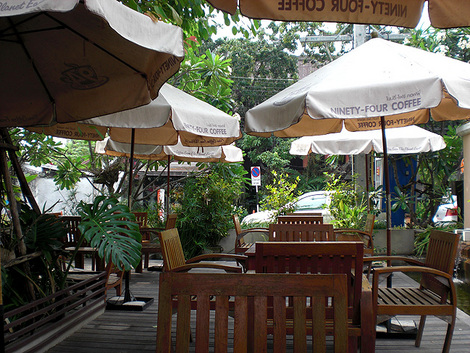 In Chiang Mai in northern Thailand recently, I came upon Ninety Four Coffee just off Nimmanhemin Road, and opposite the hotel I was staying at. Ninety Four Coffee is a Thai chain with many branches in Bangkok and Chiang Mai. It's not as popular as Starbucks or Wawee Coffee (a Thai brand), which is surprising as the quality of coffee drinks, food, service and cafes are much higher than Starbucks or Wawee Coffee. There were several things I noticed about Ninety Four Coffee, which explain why it has an image in Thailand of being quite hi-so (high-society):
Location of Ninety Four Coffee Shops – Many of the Ninety Four Coffee shops are in excellent locations. The one I visited in Chiang Mai was just off Nimmanhemin Road, which is an upscale part of Chiang Mai with many restaurants, bars and coffee shops. On the same small soi as Ninety Four Coffee, you can also find Wawee Coffee and Starbucks, but the location of Ninety Four Coffee was better as it was on a much larger piece of land.
This allowed Ninety Four Coffee to create several beautiful outdoor seating areas with pretty gardens, large wooden tables and benches, beautiful umbrellas and traditional Thai sculptures. At the Ninety Four Coffee near Nimmanhemin Road, there is seating outdoors for at least 50 people and all in very pretty areas of the garden.
Atmosphere at Ninety Four Coffee Shops – The atmosphere at Ninety Four Coffee shops is just lovely. They're often designed with hardwood floors, dark wood or rattan furniture and lots of comfortable sofas, chairs and tables. The coffee shops play soothing music (jazz, blues, etc) and at a volume that's not too intrusive to what you're doing. Many of the shops also have two floors, and the upstairs floor is always private and very comfortable.
Coffee Drinks at Ninety Four Coffee Shops – The coffee drinks at Ninety Four Coffee shops are a cheaper price than Starbucks or Wawee Coffee. Mostly, however, the drinks are smaller (the medium size latte is less than 60% the size of the same drink at Starbucks), but for me the Ninety Four Coffee drinks were much more delicious. For a medium size latte, the cost is normally around 75 baht (approximately $2.15) and iced drinks slightly more. Ninety Four Coffee serves all the usual coffee drinks, plus many fruit juices, fruit shakes, green tea and chocolate concoctions. Every drink I tried there was as delicious as the lattes.
Food at Ninety Four Coffee Shops – I'm not normally a fan of food at many coffee shops but, after trying cakes and sandwiches at Ninety Four Coffee, I was thrilled to discover how scrumptious they were. Ninety Four Coffee serves many different kinds of cake (cheesecake, apple pie, coconut pie, carrot cake etc) as well as full breakfasts with eggs, pancakes, toast,, and toasted sandwiches with a side saddle. I highly recommend the New York cheesecake, the blueberry cheesecake, the chocolate gateaux and the toasted ham and cheese sandwich, which comes with a delicious salad.
Service at Ninety Four Coffee Shops – The service at Ninety Four Coffee was excellent. Mostly young Thai women work at the branches I have visited and all are very polite. Drink orders are brought very quickly and even toasted sandwiches and salad take only around five minutes. All service is given with a smile and many of their staff wai you when you leave.
Free Internet at Ninety Four Coffee – Unlike Starbucks, where you have to pay 150 baht ($4.30) per hour for internet access (unbelievably expensive in Thailand!), if you buy anything at Ninety Four Coffee, you get an hour of internet access for free. If you buy two things, you get two hours free. Needless to say, I spent four hours at Ninety Four Coffee the other week and most of that time was spent on free internet.
Every Ninety Four Coffee I have visited has had gorgeous gardens, beautiful interiors, nice staff, delicious drinks, excellent food and free internet. For me, Ninety Four Coffee is the best coffee in Thailand and I will visit any of their stores before I will go to another coffee shop.