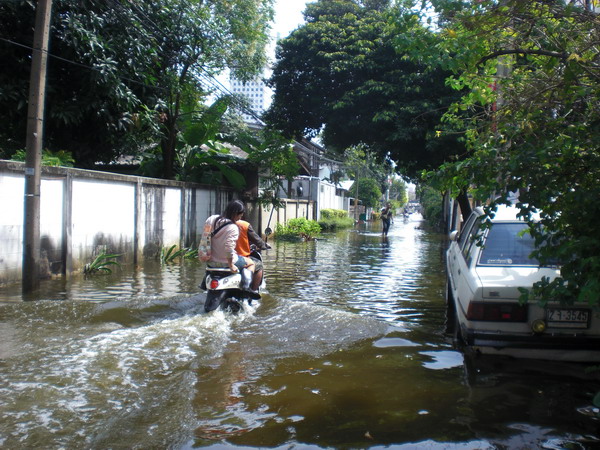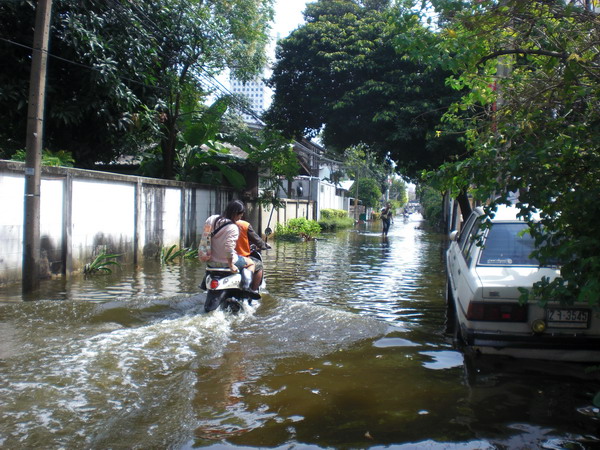 On our walk down a couple of sois on our way to Central Ladprao yesterday, we took some photographs just to document the flooding around the Pahonyothin-Central Ladprao-Ratchadapisek area of northern Bangkok.
As you will see, starting out at almost knee deep, in some areas of Pahonyothin it was soon at mid-thigh level and, at one spot, read-end level.
Today the water has risen a little bit more, with reports now saying the intersection of Ratchadapisek and Pahonyothin is at 70-80 centimeters (around 2 feet 3 inches to 2 feet 9 inches) and the Central Ladprao-Vibhavadi intersection at 70 centimeters (2 feet 3 inches).
At that height, it is almost impossible to walk around in, so most people are hopping on military trucks if they can.
Siam Commercial Bank (SCB) has also done an incredible job during these floods.
They have at least 10 trucks circling around the main roads and small side streets in our neighborhood, picking up people and taking them where they need to go.
Some of the trucks even have step ladders that they place down in the water so you can climb up them and into the high truck. Thai ingenuity really does know no bounds during this crisis.