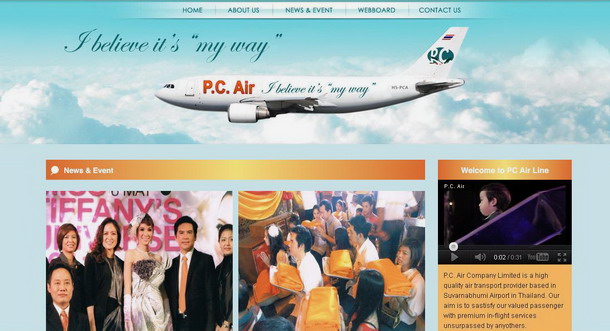 When you live in Thailand, you'll often hear foreigners saying "Only in Thailand" and laughing about something they've just seen or heard. Nothing could be more true today in the case of new Thai airline P.C. Air. They launched their first flight out of Bangkok today and, along with male and female flight attendants, and a whole slew of journalists and other special guests, the P.C. Air flight included four transexual flight attendants.
Known as the "Third Sex" here in Thailand, transexual flight attendants were recruited earlier in the year specifically for this airline. The management was sympathetic to the claims that transexuals have more difficulty getting interesting jobs than do male and female employees, and wanted to do something to help.
From now on, transexual flight attendants will be on many of P.C. Air's flights and, as well trained as they have been, you should get excellent customer service.
P.C. Air is just a small charter service that will be flying from Bangkok on routes to China, Incheon in South Korea, Tokyo and Osaka in Japan.
They've put a lot of effort into this launch and, from all accounts, everything went incredibly well. Keep an eye on this airline. It could be very big.
Meanwhile, watch P.C. Air's promotional video – featuring one of their very beautiful transexual flight attendants. And find out more about them on their website.