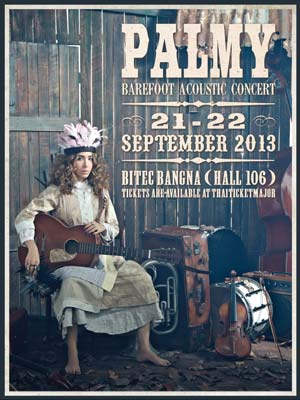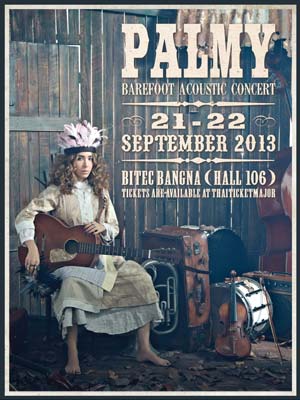 Palmy is one of my favorite Thai singers, so I'm always happy to see a new release coming from her. In 2014, Palmy's newest release is a DVD of her 'Barefoot Acoustic Concert' – a concert I wanted to go to but was out of the country for.
A couple of Thai friends went to it, however, and said Palmy was spectacular, so when I saw the concert had been released on DVD – yep, I was thrilled, and bought it immediately.
Palmy, just in case you're not familiar with her, has been on the Thai music scene for more than a decade. She's Thai-Belgian (mother is Thai, father in Belgian) and was raised in both Thailand and later in Australia, so she speaks fluent English as well as Thai.
The music Palmy plays and sings is interesting as it's always not stereotypically Thai. Instead, it's an eclectic mix of styles and changes quite often, from typical pop rock songs to ones with a more ska or country feel to them. You'll see some of these on this latest concert DVD.
Palmy's 'Barefoot Acoustic Concert' DVD includes not just the live performance from her but also performances from popular Thai musician and ukulele king Singto Numchoke, who is another big reason to buy this awesome concert DVD, and Thai singer Hugo. Songs on it include Tick Tock, The Beatle's Blackbird and Shy Boy.
You can grab the DVD at Mangpong, one of my favorite Thai stores, or at many other music stores in Thailand. At only 235 baht or $7.25, it's a steal, as you'll see from the video preview below.