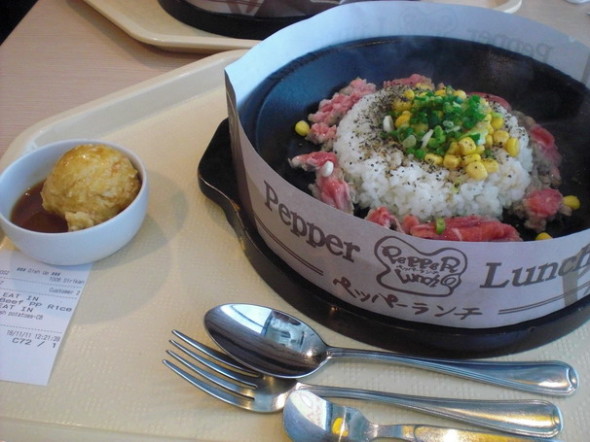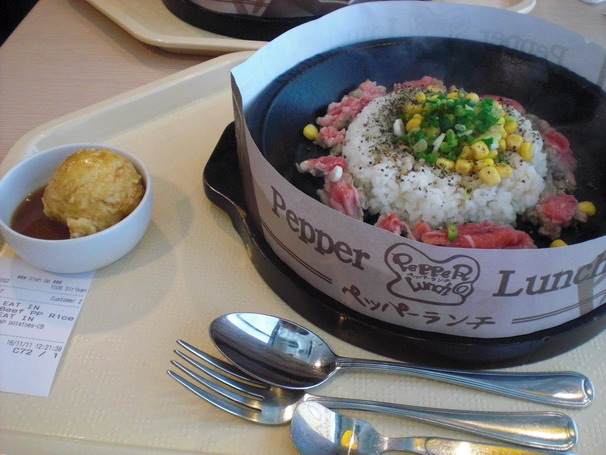 Several times a month, I eat at Central World Plaza in Bangkok. Last night, I decided to try Pepper Lunch, a Japanese steak restaurant that's popular with Thais and serves mostly steak, pork, chicken and salmon dishes. The cool thing about Pepper Lunch though, and the reason so many Thais love it, is the food arrives at your table mostly raw but is served on an individual steaming hot skillet, which cooks the food while you wait.
Last night, I ordered the Pepper Pork Set, which arrived at my table less than 3 minutes after ordering it. The set included a decent sized pork steak, and a huge amount of yellow corn, served on top of a steaming mound of white rice. I paid an extra 10 baht (15 cents) and also got an egg on the side, which was happily cooking away when the steaming skilled was placed carefully in front of me.
A large container of Pepsi completed the set and for only 139 baht (around $4), although expensive for Thailand, it's relatively cheap compared to western prices.
Once the food had arrived, I stirred it around so that every side of the pork was cooked perfectly. I flipped the frying egg over, so that the yoke burst and mixed in with the pork and the corn, which then cooked to perfection. As everything was cooking, I also added garlic soy sauce and a honey brown sauce that's in the middle of each table, so you can flavor your food yourself.
A couple of dashes of salt and my Pepper Pork Set was ready to eat.
When you first eat at Pepper Lunch, the first thing you notice is how fresh the food is. It's literally only been finishing cooking for less than a minute so it's just about the freshest, hottest food you can find in Thailand.
Now, I love boiling hot food, so the sight of steaming, sizzling pork steak and fried egg was almost more than I could bear. Another thing I absolutely loved was, because the food cooks at your table, the rice sticks to the skillet a little bit and ends up crunchy and crispy on the bottom – absolutely scrumptious.
Pepper Lunch in Bangkok has a very large menu. You can choose from beef steak, hamburger steak, salmon steak, Tokusen ribeye steak, cut steak, hamburger and chicken, pork, hamburger and pork, cut steak and hamburger and a load more. Side dishes include miso soup (very cheap at only $1 a bowl), or a seasonal soup and steamed rice.
They also have Sesame Chicken Salads, Seaweed Salads and a Tuna Salad, all which arrive in a plastic cup that you can add dressing to and then shake up to mix the dressing properly. If you want extras on your meat sets, you can also add extra fried eggs, cheese or curry powder.
For the large amount of food you get (the skillet really is enormous) the prices at Pepper Lunch are extremely inexpensive. Sets, which include all the food and a drink and, in some cases a side order or rice, begin at 120 baht ($3.75) and go up to 425 ($13) for a Tokusen Ribeye steak with all the trimmings.
Other steak sets run from 189 baht ($5.45) to 229 baht ($6.60) for an enormous skillet of cut steak and hamburger.
The staff at Pepper Lunch are helpful and friendly and make sure you have everything you need. As the food arrives so quickly too, it's a great place for a fast lunch or dinner if you're in a rush and it's actually quite healthy.
I teach at Central World Plaza again next week and I'll be eating dinner at Pepper Lunch a second time. This time, I'll be trying the Hamburger and Chicken Set – at only 189 baht ($5.45) that's a great deal.
Pepper Lunch is at Central World Plaza Mall, on the 6th floor in the Atrium Zone. There are also other branches in Bangkok at Chamchuri Square, SF Cinema City in MBK Mall, and Central Plaza Bangna.