Platinum Fashion Mall is the one of the most popular cheap clothing malls in Bangkok, Thailand for Thai women of all ages and sizes. Known as the best place in the city to buy cheap yet beautiful quality clothes, Platinum Fashion Mall is crowded at any time of the day or night.
If you are looking for cheap clothes (and by 'cheap', I mean as low as $1.50 per piece), there is no better place to shop than Platinum Fashion Mall for more bang for your baht.
Location of Platinum Fashion Mall – The mall is located on Petchaburi Road in the Ratchathavee district of Bangkok. It is easy to get to as it is only a 10 minute walk from the Ratchathavee sky train station or a five minute taxi ride.
From the sky train station walk north for 100 yards then turn right onto Petchaburi Road. Stay on the right hand side of the street and keep walking until you pass Pantip Plaza, the large electronics mall. Platinum Fashion Mall is on the next block opposite the Amari Watergate Hotel.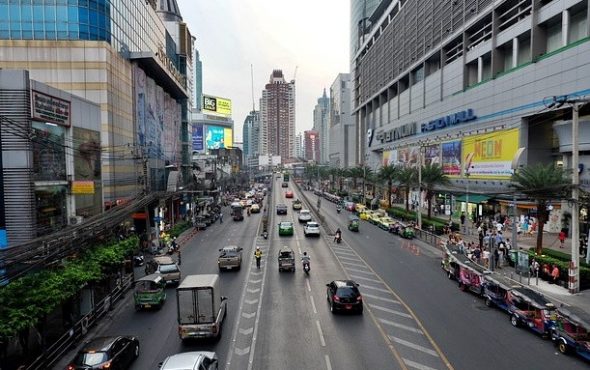 What to Buy – Platinum Fashion Mall sells everything related to fashion and even things that aren't. The mall has nine floors with small market-style shops on every floor.
On the first three floors, you will see thousands of stalls selling clothing (t shirts, skirts, pants, dresses, vests, pajamas – you name it they sell it). On the fourth floor, along with more clothing stalls, there's shops selling leather bags, belts, shoes and other accessories.
Related: Where to buy the cheapest shoes great quality shoes in Bangkok, Thailand?
Don't miss the jewelry stalls with beautiful necklaces, bracelets and rings that would sell for $20 or more in the US or Europe for as little as $1.25 here. Platinum carries men's, women's and children's clothing and accessories in all styles, colors and sizes.
The mall also sells household decorative items, towels, bathroom accessories, Thai handicrafts, candles and more.
Prices at Platinum – Bangkok's Platinum Mall is technically a wholesale mall but is open to everyone with no need for a special membership card; you just walk right in. Because it is a wholesale mall though, the more you buy the cheaper the price per piece becomes.
For instance, last time I went I bought five hand-blown glass necklaces in vibrant, gorgeous colors. When I first asked the seller how much, she told me 90 baht per piece, approximately $2.80. When I chose five of them and then asked her how much, the price came down to 50 baht per piece ($1.50) – a saving of $1.30 per necklace and almost half of the original asking price.
Related: Where to buy cheap suitcases and bags in Bangkok?
T shirts, if you buy three pieces or more, are as cheap as 50 baht ($1.30). Shirts, blouses and skirts start at 150 baht ($4.65) and you can buy bags for 100 baht ($3) and trendy men's and women's skateboard shorts for 200 baht ($6). Just remember, the more pieces you buy at one particular shop the lower the price will become per piece.
At Platinum, you will also find brand name clothing that sells in the US for $30-50 for $5 per piece.
Eating at Platinum – Platinum Mall is a great place to grab a drink, a snack or a full meal. With several restaurants on most of the floors offering Thai and international food, there is also a huge food court on the top floor with at least 50 food stalls.
For only 40 baht ($1.20), you can eat noodles, or a rice and meat dish, fish, curries, and Thai, Vietnamese, Japanese and western food. Don't miss Black Canyon Coffee either with its fruit shakes, green tea smoothies and hot and iced espresso drinks.
If you are looking for fashionable clothing for men, women and children that is beautiful quality, unusual and a cheap price, there is no other place in Bangkok better than Platinum Fashion Mall.
Just try not to go on the weekend as you will barely be able to move for the tens of thousands (literally) of cute Thai girls all buying clothing for their next week at work.
For more idea of the products at Platinum Fashion Mall, look at their website where you'll see thousands of photographs of many of the shops and exactly what they sell.
And check out the map below, so you are absolutely sure how to get there.