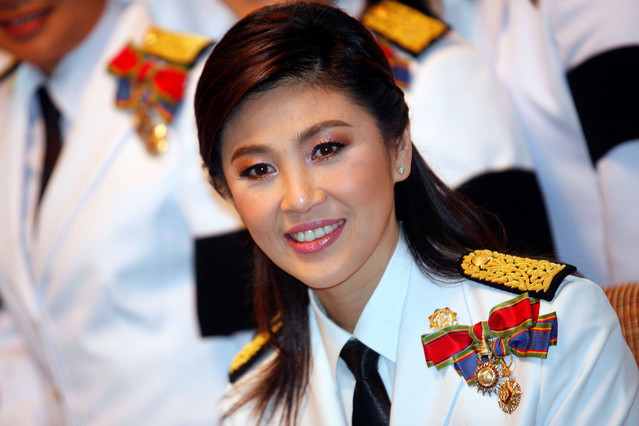 This is interesting. As Thai prime minister Yingluck Shinawatra's popularity continues to fall, news out of the Thai government is she is being tipped to double as Thailand's first female Minister of Defence during a cabinet reshuffle expected in the next few weeks. If that is indeed true, Yingluck's personal power and that of her political party, Pheu Thai, could increase even more.
Some in the Thai military, of course, are understandably not too happy about the possibility. After all, Yingluck Shinawatra has never been in the military or, for that matter, the police force or any other government agency that requires strict adherence to a particular set of rules and regulations. That leaves some in the military concerned that she may not understand military customs and ways of doing things.
One interesting fact, however, is unlike many other former Thai prime ministers, Yingluck has done quite well in her dealings with various military officials,  and in particular with Army Chief General Prayuth Chan-ocha.
Who knows, maybe it will take Yingluck Shinawatra as Thailand's first female Minister of Defence to be able to create a relationship between the government and the military that won't result in yet another military coup in Thailand?
For more on the likelihood of Prime Minister Yingluck Shinawatra becoming Thailand's first female Minister of Defence and all that that will encompass, check out the full story at Thai News.