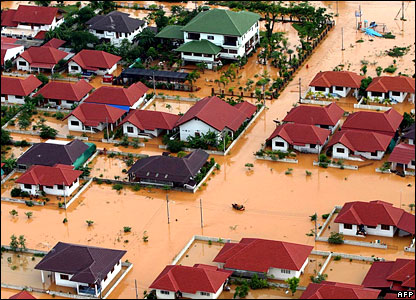 It's incredibly sad watching Thai news in the last few days and seeing all the tens of thousands of people flooded out of their homes in many areas of Thailand. The government says, currently, one third of Thailand is a disaster area and much of it is still under water. Chiang Mai was affected last week. Ayutthaya has been flooded out for about five days. Today, once water was released from reservoirs in northern Thailand, Prathum Thani, one of the provinces next to Bangkok, was also almost completely flooded. Bangkok itself is expected to get the flood waters in the next few hours.
Today, I was talking to the guy who delivers vegetables in our area. He and his wife told me, in their small hometown an hour north of Bangkok, the flood water is so bad it's almost up to the ceiling of the first floor. Most of the people who work in my building or close by are from outside Bangkok, and many of them have families who are now flooded out, with some staying in evacuation shelters, as it's too difficult to stay at home. Incredibly, incredibly sad.
As for Bangkok, Yingluck Shinawatra, the Thai prime minister, says "Inner Bangkok" is probaby safe from the floods, but "Outer Bangkok" isn't. I'm just about in "Outer Bangkok" but, luckily, not in an area that normally floods much. Plus, my apartment is on the eighth floor, so not much danger of flooding for me. I wish I could say the same for much of the rest of Thailand.
But, as always, Thais meet everything head on and with resilience. They're filling rice sacks full of sand and creating flood barriers. They're helping neighbors move belongings to higher floors of their homes, and carrying those who cannot make it through several feet of flood water. Anything that floats has been roped in as a makeshift boat — tables, childrens toys, beer coolers — anything.
Thais will make it through. They always do. When flood waters drain, they'll dry out their belongings and their homes, rebuild structures that were damaged, repair, repaint and get back on with their lives. All with a smile. Because that's what it means to be Thai.