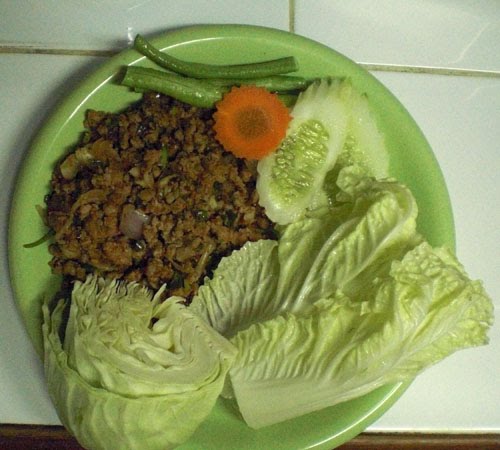 Prepared supermarket food in Thailand is very cheap
As we all know, I don't cook. That's why living in Thailand is perfect for me. Prepared food is everywhere so, if you don't want to eat out, you can grab already-prepared food at Thai restaurants, food stalls, supermarkets, even 7-11s. Take it home. Nuke it, and you have a cheap and delicious lunch or dinner.
One of my favorite places to pick up already-prepared supermarket food in Thailand is at my local Carrefour supermarket in Bangkok. Their on-site kitchen is decent and, although the Thai food they prepare is just your standard dishes (pad thai, tom kha gai, tom yam geung etc.) it still tastes great. Plus, it's dirt cheap.
Try the larb — it's amazing
Yesterday, I grabbed a couple of packs of prepared supermarket food at Carrefour in Bangkok and, this time, decided to try the larb.
If you're not familiar with the Thai dish, larb, it's a spicy meat salad made with fish sauce and limes that you can eat either hot or cold. It always comes with enormous amounts of cabbage, lettuce, green beans and cucumbers which, if you get a very spicy one, is great to cool the palate.
Larb is usually made with pork, chicken, beef, duck or turkey. I buy the pork or chicken as those are the most readily available and also the cheapest.
Check out the photograph at the top of the page and see the huge plate of larb and veggies I got at Carrefour. So much food in fact, it lasted me two meals and for the incredibly expensive price of 30 baht (95 cents) how can you pass that up?