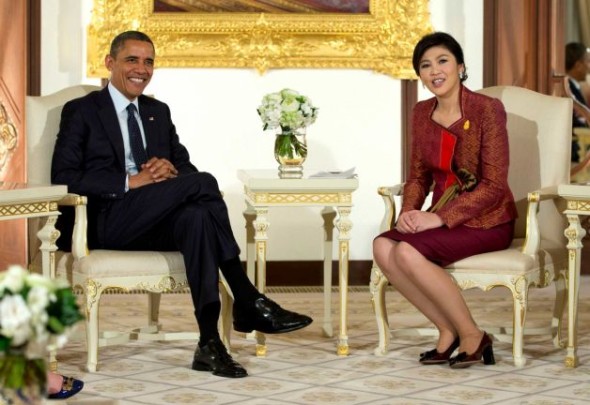 President Barack Obama is currently in Bangkok, Thailand on a three-country visit to south east Asia. He arrived in Bangkok on Sunday afternoon at 3pm and immediately went  with Secretary of State Hillary Clinton to visit Wat Pho, home of one of the world's largest reclining buddhas. An hour later, Obama was at Siriraj Hospital for an audience with King Bhumibol Adulyadej and then later had dinner with Thailand's Prime Minister, Yingluck Shinawatra. Obama will also be visiting Myanmar and Cambodia.
During his visit to Bangkok, President Obama said the main focus of his trip was security, as well as trade and investment within the south east Asian region.
The main focus of his trip to Thailand, however, is the TPP trade agreement between the US and Thailand, but whether that will happen is not set in stone as there have been many critics in Thailand saying the trade agreement doesn't have enough transparency and will not benefit Thailand as much as it will benefit the US.
President Obama will be leaving Bangkok on Monday for Myanmar where he will meet with military leaders in the country.