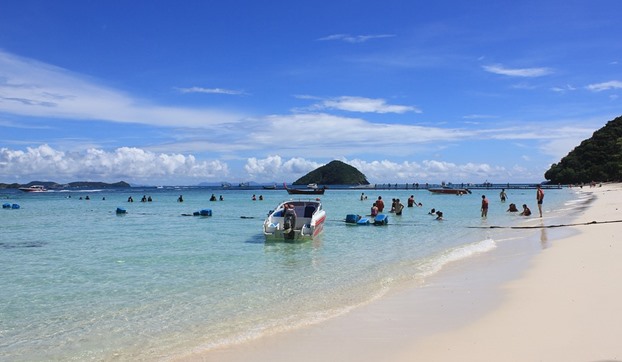 When English teachers visit Phuket, Thailand many immediately want to teach there. Thailand's most popular island resort has gorgeous beaches, blue ocean, water sports, awesome restaurants, bars and cafes and lots of  friendly people.
For a relaxed place, you cannot beat Phuket but, most teachers don't teach there long.
With the pros come many cons so, if you are an English teacher longing to teach in Phuket, weigh up both and see if teaching there might be a good fit for you.
Teaching English in Phuket, Thailand – Pros
Phuket, like most other places in Thailand, has many pros when it comes to teaching English.
1. The beaches and the ocean, of course. With some of Thailand's best beaches, Phuket is the perfect place for anyone who likes sand, sea and surf. It is also relaxed, friendly and simply gorgeous. So, if you like this type of thing, teaching in Phuket could definitely be for you.
2. There are tons of things to do in Phuket, Thailand. When you are not teaching, you can eat at one of the island's world-class restaurants, sit in a trendy coffee shop, enjoy the island's hopping nightlife, go para-sailing, bungee jumping, water skiing, canoeing, elephant trekking – just a myriad of things.
You will never be bored as a teacher on Phuket.
3. Unlike many places in Thailand, because Phuket gets so many tourists, it is easy to find western food and western conveniences. One thing teachers in more remote areas of Thailand complain about is the lack of western things. You won't have this problem as a teacher in Phuket.
4. Teaching jobs on Phuket are relatively plentiful. With several government schools, language schools geared to adults and children, a university, a rajhabat (a Thai junior college), other two-year colleges, a couple of international schools and, of course, plenty of hotels that hire English teachers for their staff.
5. Accommodation on Phuket is also plentiful and there is every type to satisfy any teacher's taste. Studio apartments, one and two bedroom apartments, town houses and houses, in town or by the beach – take your pick, there's everything.
6. The Thais on Phuket are incredibly friendly and very relaxed. Because of the tourist industry, most of them speak some English, which is very rare in most other places in Bangkok, so it'll be easy for you to make Thai friends too.
7. Phuket has many westerners, tourists and expats, so you will always find someone you can have a chat with in English. Easier to make western (farang) friends in there too.
Teaching English in Phuket, Thailand – Cons
If you arethinking of teaching English in Phuket, Thailand, there are as many cons as pros, if not more.
1. The most important con for teaching English on Phuket is salaries.
Probably the lowest salaries anywhere in Thailand, with an average salary of only 25,000-30,000 baht ($755-$900), it is just about impossible to live on that kind of salary in Phuket. With Bangkok paying an average of 20-30% more, many teachers leave Phuket very quickly and move up to the capital city, where they can actually live on what they make.
Otherwise, you will likely find yourself having to take on a part-time teaching job simply to be able to get by.
2. The cost of living on Phuket, like most resorts, is high. With everything being at least 10-15% more expensive than in Bangkok and with salaries being lower, very few teachers stay very long. They just can't afford to live there.
3. Accommodation is certainly plentiful but it is also expensive. A studio apartment in an average building starts at at least 6,000 baht ($200) and a house near the beach is close to 20,000 baht ($610).
When your salary is only 25,000-30,000 baht per month, you can see very quickly you have no chance of living near the beach. Not with those prices.
4. Public transportation is terrible on Phuket. Unlike places like Bangkok and Chiang Mai that have excellent public transportation, Phuket's is non-existent.
That means you will end up paying an arm and a leg for taxis or tuk-tuks as most operators, because you are western, will just charge you tourist price. Most westerners end up buying a motorbike to get around, but that adds another expense you wouldn't have if you were teaching in Bangkok or Chiang Mai.
5. Unlike most other Thai cities, where you can make extra money teaching private English classes, on Phuket this is difficult during most of the year as the Thais are too busy working during the tourist season.
During the low-season, you can teach some private lessons but at rates 30-40% lower than Bangkok, you are still not making much money.
6. The heat in Phuket is intense and, because most places on the island are not air-conditioned, it is much less bearable than Bangkok where air-conditioning is everywhere. If you don't like temperatures over 100 degrees (yes, it is that hot a few months of the year), then you are highly unlikely to enjoy teaching in there.
Remember too, most classrooms will not be air-conditioned either, so you cannot even get a reprieve from the heat when working.
7. There are many things to do in Phuket, great restaurants, cafes, good western food at the supermarkets, water sports and more. The problem is, if you are making a low salary as an English teacher in Phuket, having all that within reach but not being able to afford it just makes your living situation even more depressing.
If you want to teach English in Phuket, Thailand, consider all the pros and cons carefully before you decide.
It is certainly a beautiful place to live and, for someone who has an additional source of income, it could be the perfect place. But, if all you are going to do is teach English, you should be very sure you can live on an average Phuket teaching salary.
If not, it may just be that Phuket is the place you spend your vacations.