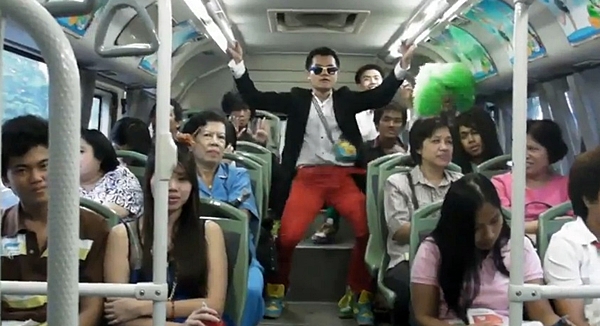 If you ask any Thai teenager which pop song is their current favorite, the majority will tell you "Gangnam Style".
Released by chubby 34-year-old South Korean pop sensation Park Jae-Sang, "Gangnam Style" has reached over 210 million views on YouTube since it was released a couple of months ago and is still climbing in viewership every day.
Park Jae-Sang, usually known by his nickname 'Psy' has even been at the MTV Awards in LA and appeared on a number of popular American TV shows.
No wonder viewership for his video is going through the roof.
In Thailand, of course, where all things K-Pop (Korean Pop) are loved, "Gangnam Style" is a sensation. Thai teenagers and young adults not only listen to the song numerous times a day, they already know all the "horse riding dance" steps, and are doing them on dance floors all over the country.
A group of over 200 students from Bangkok's Silpakorn University even participated in a Gangnam Style flash mob outside Bangkok Art and Culture Center last week that really drew the crowds.
There has even been a very funny spoof video of "Gangnam Style" released on YouTube by a famous Thai YouTuber, BieTheSka, that has already received almost 3.5 million views itself.
Do watch the sections filmed on Bangkok's public transportation — hilarious to watch the faces of the passengers who are pretending nothing odd is going on.