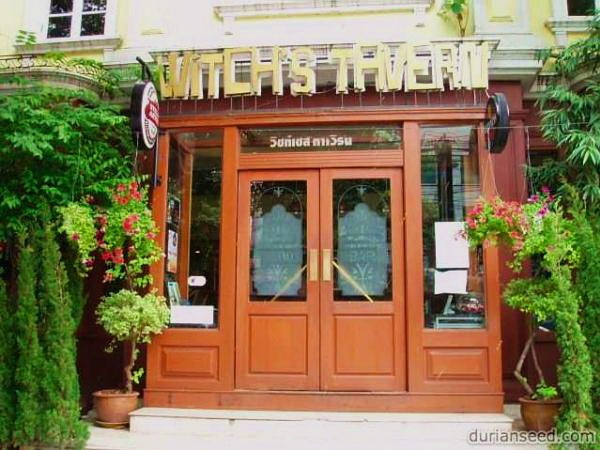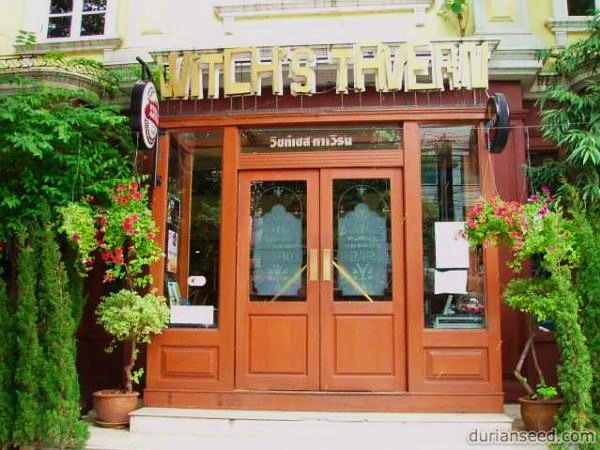 Don't even ask me how I managed to live in Bangkok, Thailand for almost seven years before I discovered Witch's Tavern. Weirdly, I'd never even heard of it but, not weirdly, it's now one of the pubs in Bangkok I recommend to everyone I meet. Witch's Tavern is huge. It serves extraordinary British food, is a supremely comfortable place to hang out and their beer is pretty great too.
Location of Witch's Tavern – A bit difficult to find, take the sky train to the Thong Lor station. Walk a few minutes up Sukhumvit Soi 55 and you'll see the Witch's Tavern on the right hand side of the street. If you stay late, you'll have to take a taxi back, as the sky train closes at 12am, but the pub is worth it. 
Atmosphere at Witch's Tavern – One of the oldest British pubs in Bangkok, Witch's has a reputation as a great hangout place, and I see why. Huge, cozy and comfortable. Those adjectives describe it perfectly. As you walk in, you'll notice the large bar in the middle of the room with seats all the way around it.
Several other comfortable seating areas are around the sides and in the corners of the room, if you like something a little more private, and upstairs there's another large area with a wine bar and pool tables.
The interior of the pub is all wood and the lighting is subdued, giving it a warm and cozy feel. People here are friendly, which definitely helps with the relaxed feel of the place. 
Food at Witch's Tavern – Bangkok isn't known for having particularly good pub food, but Witch's Tavern excels with not only its typical British pub fare but also more upscale European offerings, as well as a variety of Thai dishes. The hamburgers are incredible – moist, juicy and flavorful – and several of the pub's pizza are worth trying to.
Start out with several of their tapas, like deep fried goat cheese or mini meat balls with a spicy sauce. Shepherd's pie, fish and chips and beef and Guinness pie are just some of the British offerings and, if Thai is your thing, don't miss the pad thai or the lad nar noodles. P
rices are reasonable, with tapas starting at 160 baht ($5) and pizzas, burgers and British pub fare between 240 and 290 baht($7.50-$8.75). Portions are large. 
Drinks at Witch's Tavern – If you like beer there's several beers on tap, as well as bottled local beers, Heineken, Guinness, and various British beers. Pitchers of margaritas and sangria are excellent, Bacardi breezers are cold and delicious and don't miss a Witch's Brew – the pub's signature drink. The upstairs wine bar has an excellent wine menu and prices, particularly for Thailand where wine is often expensive, are reasonable.
The live music on several nights a week also helps to make the place great fun. Rock and roll, jazz and blues can be heard with a Sunday jam that's exciting to watch. But arrive early as these nights are the most popular nights of the week and tables go fast.
You can find Witch's Tavern at 44/5 Thonglor Soi 1 Sukhumvit 55 Bangkok. Tel: 0-2662-6664