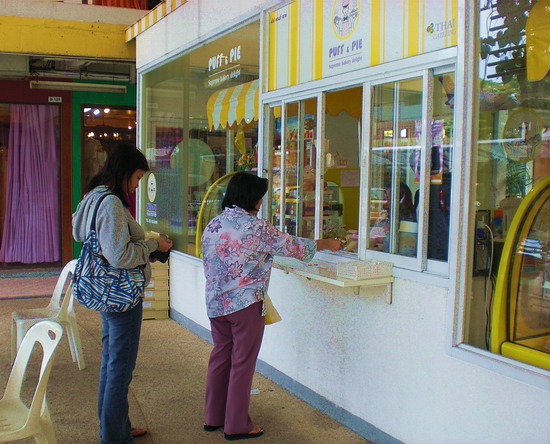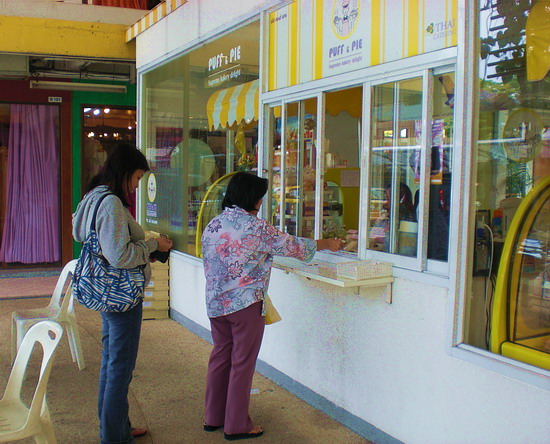 I first discovered Puff and Pie, a Bangkok, Thailand bakery, on a trip to Chiang Mai. At the airport on my way back to Bangkok and desperate for a snack, I came across a cheery yellow and white shop called Puff and Pie. Selling my favorite Thai pastry, the curry puff, along with cakes, jam rolls, puff pastries and even fruit pies, I was immediately hooked and have frequented the bakery ever since. Not long afterward, I also discovered Puff and Pie was owned by Thai Airways, Thailand's national airline, which intrigued me even more.
Locations of Puff and Pie in Bangkok – While there are several Puff and Pie branches outside Bangkok, most are still in Thailand's capital city. With currently around 85 branches in Thailand, more than 50 are in Bangkok itself. You'll find them at places like Central World Plaza, Bon Marche on Prachaniwet 1 and at Mahboonkrong Mall near National Stadium sky train station.
Some Puff and Pie branches are proper bakeries and cafes, but many are nothing more than small kiosks or stalls, selling top-quality baked goods at inexpensive prices.
Products at Puff and Pie – When Puff and Pie first started to open branches around Bangkok, Thai Airways decided they would sell just a few baked goods. As time has gone on though, and more and more branches of the bakery are being opened, Puff and PIe have expanded their product line until its now quite large.
On a visit to Puff and Pie at Bon Marche this afternoon, I bought a Danish Pastry and a Tuna Pie and the Thai friend I had lunch with had a Coffee Roll (like a Swiss Roll but coffee flavored). Other baked products include various loafs of bread, muffins, tarts (jam, fruit and custard), puff pastries stuffed with both sweet and savory fillings, slices of chocolate cake, white cake,  cheesecake, fruit cake etc and, of course, my favorite the Thai Curry Puff (a puff pastry stuffed with a curried meat filling).
If you like to grab a puff pastry or a cake and sit at a table and relax, some of the Puff and Pie locations have inside and outside seating, and also serve various coffee drinks, fruit juices, and milk-based drinks.
In the five years I've been buying Puff and Pie pastries and cakes, I haven't eaten anything I haven't absolutely loved. Every product is fresh, delicious and is made daily in Thai Airways enormous kitchens and delivered to local Puff and Pie branches as soon as its ready. In comparison to other Thai bakeries, I'd put Puff and Pie right up there with the best as they're known for their clean shops, excellent customer service and delicious products.
Prices and Popularity – Puff and Pie is, first of all, popular because of its top quality baked goods but also for its extremely inexpensive prices. The Danish Pastry I bought from Puff and Pie today was very large and, at only 20 baht (66 cents) around half the price I'd pay at most other Bangkok bakeries. Muffins, puff pastry items, and slices of sponge cake average between 20-35 baht (66 cents to $1.05), extremely inexpensive for the high quality and taste.
Cakes and cheesecakes too are reasonably priced, with nothing over 65 baht ($2) and those are the high-end items.
In the last year, Puff and Pie has also added salad dressings, curry sauces and ready-made-meals to go, all made in Thai Airways kitchens, so you can stop off not just for a cake or a loaf of bread, but an entire meal to go with it.
If you're in Bangkok, Thailand and haven't tried a Puff and Pie bakery yet, I recommend the kiosk location at Bon Marche outdoor market on Prachaniwet 1 in northern Bangkok as they've a good selection of products, lots of outdoor seating and friendly staff. Or, if you prefer an indoor shop, try the nice branch of Puff and Pie at Central World Plaza, Bangkok's enormous shopping mall. It won't disappoint.