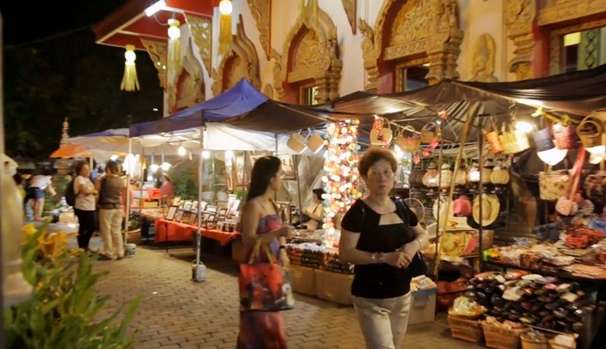 The Rachadamneon Road Sunday Night Market, or the Walking Street Market as the Thais call it, offers the best shopping in Thailand. Bar none. In fact, when I visit Chiang Mai, I barely buy anything at all until I've had time to visit the Rachadamneon Road Sunday Night Market to see what's on sale.
Handicrafts, artwork, clothes, toys, shoes, household items, make-up and beauty products, and some of the best food and drink in Thailand — all of it is on sale here and at unbelievably cheap prices.
That's why, when I came across this wonderful Rachadamneon Road Sunday Night Market video from a British travel videographer and reporter called Ian Brit (real name Ian Habgood), I couldn't resist showing it to you. After all, it doesn't only show how amazing Chiang Mai's Walking Street Market is, but also some incredibly cute places around Chiang Mai as well.
Watch it. You'll love it. Then, of course……..book your trip to Chiang Mai. It's my favorite city in Thailand and millions of other people across the world, I guarantee you, will agree with me.