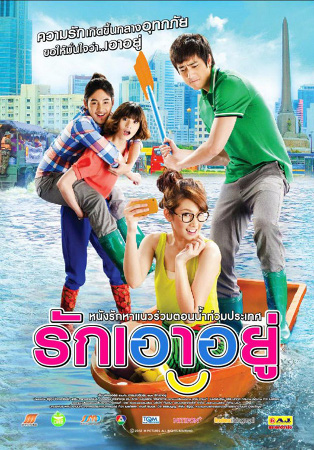 Well it hasn't taken a Thai movie director long to film and release a romantic comedy about Bangkok's recent floods. Flood water in northern Bangkok only drained in the middle of December and, already, there's a new movie "Rak Aow Yu" been made, which was released in Bangkok movie theaters on March 7th and, yes, it's funny.
Rak Aow Yu was directed by Thai director Poj Arnon and stars Benjarat Wisitkitchakarn, Busarin Yhokpraipan, Rattapoom Tokongsub, and Uttapong Uttakitkul. The woman who plays the mother in Rak Aow Yu is also the same Thai actress who played the mother so well in my favorite Thai movie, Bangkok Traffic Love Story.
Interestingly too,some of it was filmed up near where we live when we're in Bangkok and, yes, we did live through (and wade through) the flood waters you'll see in the movie. Many times.
Of course, Rak Aow Yu is popular in Thailand partially because it stars Rattapoom "Film" Tokhongsab who was embroiled in a Thai scandal a couple of years ago when Thai actress Annie Brook accused him of being the father of her child, but then refused to let the baby take a paternity test. Rattapoom Tokhongsab's career took a dive after that, so Rak Aow Yu is his comeback movie.
Meanwhile, watch the trailer. Rak Aow Yu is definitely a Thai romantic comedy to see, if you haven't already that is.