Rama Gardens Hotel in northern Bangkok is a hotel that is not as well known as some. Around 20 miles north of downtown Bangkok, close to Don Muang, the old city airport, Rama Gardens is set back off the main freeway in its own many acres of gorgeous gardens and grounds.
I have been to Rama Gardens Hotel several times for a variety of reasons. Twice when my parents stayed there, twice for weddings and once for Christmas Dinner.
Every time, Rama Gardens Hotel offered excellent service in a lovely atmosphere, and the food is superb too.
Location of Rama Gardens Hotel – As I said, the hotel is around 20 miles north of downtown Bangkok just off Viphavadi-Rangsit (also spelled Viphavadee-Rangsit) Road. Viphavadi-Rangsit is one of Bangkok's main freeways so, from downtown, it is a straight shot up to Rama Gardens.
The hotel is only a five minute drive from Don Muang airport, if you are on one of the few flights in and out of there, and ten minutes from Central Ladprao Mall and the sky train.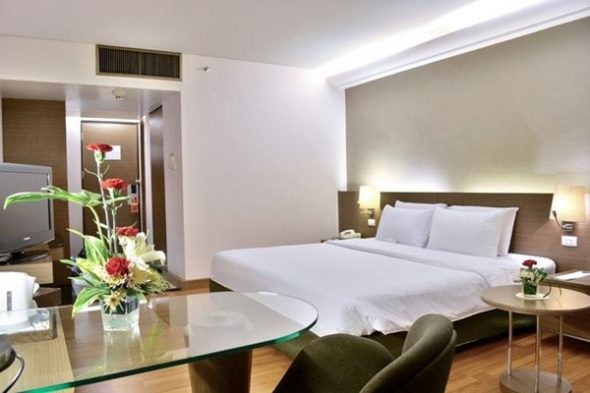 Rooms at Rama Gardens Hotel – The hotel is a four-star hotel so, as you can imagine, the rooms are lovely. When my parents stayed there a couple of years ago, they were renovating much of the hotel and, since then, the rooms are even nicer.
There are two separate areas of the hotel – The Rama Wing and The Grand Courtyard, but both have rooms and executive suites with The Grand Courtyard also offering a Royal Suite and an Emperor Suite.
Rooms are decorated in a contemporary style with gorgeous hardwood floors, have Queen or King size beds, cable TV, broadband internet, hair dryers, in-room safes and a lot more.
My parents stayed in a Superior Room (see photo of a typical Superior Room) and thought it was extremely comfortable and beautiful.
Even these mid-range rooms are large with plenty of space for luggage, a small sitting area, a flatscreen TV and a spacious bathroom.
Facilities at Rama Gardens Hotel – The hotel is known as a hotel and resort so the facilities are excellent. The downstairs and lobby area of the hotel is enormous, with several open-plan restaurants and bars, seating
areas and all surrounded by huge floor to ceiling glass windows.
It is all done in spectacular marble and, as everything is open-plan, you feel like you are in the lap of luxury.
Rama Gardens Hotel has six restaurants.
I have eaten at The Greenery and at Forget Me Not and both were superb. Choice of cuisines at all restaurants includes French, Italian, Thai, Japanese, Chinese and several other international cuisines. They also have evenings where specialties like seafood buffets and Japanese sushi buffets are set up.
One of my best meals there was a Christmas dinner a couple of years ago as Rama Gardens Hotel is known for its wonderful Christmas dinners. It is also a favorite place to eat for both expats and Thai families.
For our Christmas dinner, we had so many courses with our meal (which was surprisingly inexpensive for the quality of food), I just about rolled home. At both weddings I have attended at Rama Gardens too, everything was perfect and the food was some of the best wedding food I've eaten.
As for other facilities, Rama Gardens Hotel also has a full Sports Complex with tennis and squash courts, a fitness room and spa, a swimming pool and even a football pitch.
Price-wise too, the Rama Gardens Hotel is inexpensive for the four-star quality. They also often run special promotions for Superior Rooms for as low as $55 a night, or Executive Suites for around $100.
If you are not looking for a place to stay but just a place for a good meal, Rama Gardens Hotel is also a nice place for a Sunday lunch. Every Sunday, it is packed with Thai couples and families who obviously enjoy the great food in a beautiful location for a not-too-expensive price.
Rama Gardens Hotel – 9/9 Vibhavadi Rangsit Road, Laksi, Bangkok 10210 Thailand, Tel: 66 2 558 7888