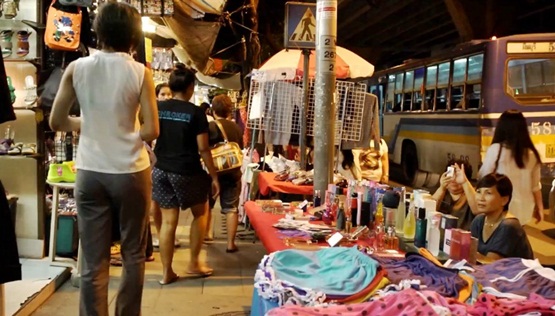 The popular Ramkhamhaeng night market was the site of a bomb blast on Sunday night, a bomb blast that injured seven people, several of them quite seriously. According to Bangkok police, the bomb was hidden in a pile of garbage bags and exploded during the middle of normal Ramkhamhaeng night market activities right across the street from Ramkhamhaeng University. Seven people, shoppers and stall owners, were taken to hospital.
Police, as yet, have no suspects although they do expect to get an idea of who might have hidden the bomb by looking at CCTV camera video footage taken in the vicinity. They say the bomb had been packed with nails and an explosive powder and then placed in a plastic bag so that it would look just like garbage.
While some, of course, are saying the Ramkhamhaeng night market bomb blast could be linked to the current Muslim insurgency in the south of Thailand, Bangkok police are warning that the public should not jump to conclusions. They say the bomb was almost identical to the six bombs that exploded during the New Year celebrations in 2006. Those bombings, however, were never able to be linked to the southern Thailand unrest or to any one perpetrator.
They are also not ruling out possible disputes involving stall owners in the area or, as the bomb exploded outside a Bangkok Bank branch, someone with a grudge against the bank.