Eat Me is consistently billed as one of the best restaurants in Bangkok, Thailand, which means, as one of the biggest foodies in Thailand, it was about time I checked it out.
So, a couple of weeks ago, roping in two Thai friends, I decided to splurge on dinner at Eat Me in downtown Bangkok, so I could see for myself if this fusion restaurant really did stand up to its top billing and, yes, surprisingly it did.
I am always a sucker for restaurants I don't have to spend hours getting to so, of course, my mood was already good when we arrived. Then, when I saw the gorgeous design and atmosphere of Eat Me, I was sold before the food even arrived.
Just a note too, the restaurant is regularly frequented by many upper-class Thais, so you know the food must be good.
The Design of Eat Me – As several of my friends had already told me, the design of Eat Me is a true rival to the food. Known as an 'art restaurant', Eat Me has walls laden with art and butcher block paper on the tables, where you can create your own art if you like while you wait. All decorated in grays and blacks, it's trendy and funky.
My only complaint was there were too many tables in too small a space, so I felt a bit like I was almost sitting on my neighbor's lap. Other than that though, it is a lovely experience. Just don't do what we did and sit outside at first.
After all, it looks gorgeous and exotic, but there are many mosquitoes, which is why we ended up inside in a more cramped area, after requesting a move before my legs were bitten off.
The Service at Eat Me – I had heard from a couple of people that the only thing Eat Me was lacking was good service, as they had mentioned it was slow and a little unfriendly. Weirdly, we experienced just the opposite.
Our waiter was lovely, exceptionally friendly and he brought our food and drinks quickly. So, no complaints in the service department. In fact, nothing but kudos for a wonderful experience.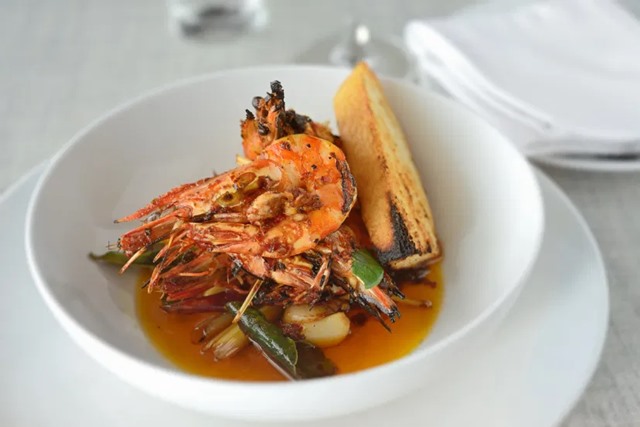 The Food at Eat Me – Eat Me is known for its fusion food. Full of modern and trendy cuisine, the menu is large and everything sounded so inviting, it took me a while to choose.
I finally ended up with the Red Onion Tart Tartin to begin, which was served with a delicious Brie cheese. My friends ordered the beetroot soup, one deciding on ordering it hot and the other preferring it cold. It didn't seem to matter what the temperature was though, as they both declared it "Aroy maak" — "Delicious".
For entrees, two of us decided on the Fig and Blue Cheese Ravioli with walnuts.
It sounds odd but was literally one of the most interesting and superb tastes I had ever experienced. In fact, if I had been alone so wouldn't have felt so 'piggy', I would probably have ordered another one.
My other friend had the Beef Tenderloin with Blue Cheese which, while he was eating it, he couldn't stop saying "Awesome, awesome, awesome" and commenting on how perfectly the meat was cooked. The lovely thing too is everything arrives superbly displayed – like artwork itself.
For dessert, I ordered the White Chocolate rice pudding. Now, rice pudding is my favorite dessert in the world and so is white chocolate but, for me, the melding of the two flavors just didn't quite do it.
This though was the only dish I liked well enough but wouldn't order again. That was just down to personal preference though, as my friend loved hers. On a second trip to Eat Me, I would order the delicious Lemon Meringue tart, as the teeny bite I had from my friend's dessert told me that was what I definitely should have eaten.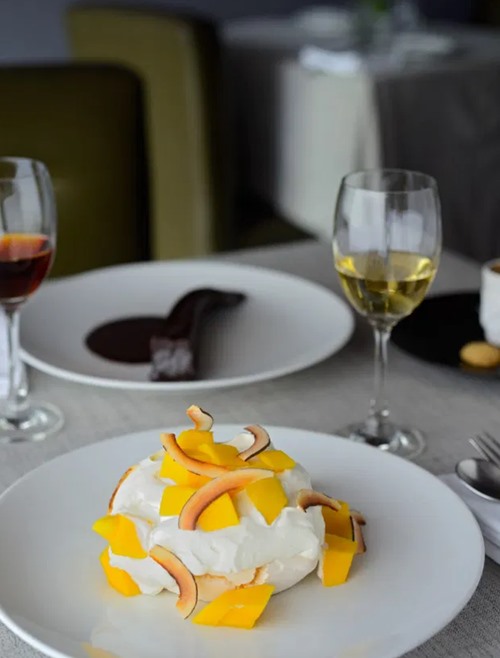 The Prices at Eat Me – If you are looking for an inexpensive meal in Bangkok, Eat Me is probably not the place for you. Especially as a full three-course meal plus drinks can be well over 3,000 baht per person depending on what you choose.
However, if you are interested in dining at an exquisitely designed restaurant in a convenient location and one that serves some of the most interesting and unique food in Bangkok that just happens to also be delicious, you cannot go wrong with Eat Me.
The ambience is gorgeous, the staff extremely friendly and the food and drink divine. You couldn't ask for more at double the price.
Eat Me is located just off Soi Convent on Soi Pipat 2. A taxi may have a hard time finding it, so I would suggest taking the skytrain to Sala Daeng and taking a short walk around the corner onto Soi Convent and down the street for a minute. Think of it as working up an appetite for dinner.
The food is so good, you will definitely be glad you did.
Check out Eat Me's menu and other details about this lovely restaurant on their website. The restaurant's official address is:
1/6 Soi Phiphat 2,
Convent Road,
Silom, Bangrak, Bangkok 10500
Telephone — +66 22380931