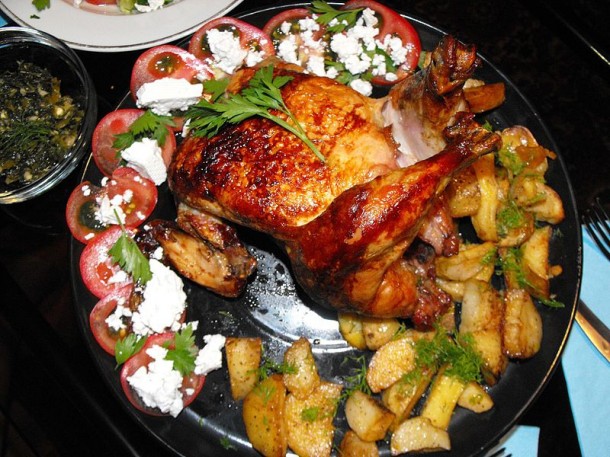 Recently, I ate again at a roast chicken restaurant in Bangkok, Thailand – Piri Piri Flaming Chicken. Selling itself as a higher-end 'spicy chicken' place, Piri Piri Flaming Chicken is a chain of Portuguese-style chicken restaurants, with several branches in malls around Bangkok. A small chain, it struggles to find customers, a fact I used to be surprised at as the food at Piri Piri Flaming Chicken is delicious, but not something I'm surprised at any more. It's simply because Piri Piri Flaming Chicken doesn't understand the Bangkok restaurant business, and here's why.
What Is Piri Piri Flaming Chicken? – I first came across Piri Piri Flaming Chicken when I'd only been living in Bangkok for a few weeks. When most people move to Thailand, after a couple of weeks of eating every Thai dish you can get your hands on you realize, if you have to eat one more Thai meal, you're going to murder a Thai. That's when you set off in search of something a bit more recognizable, and that's when I discovered Piri Piri Flaming Chicken.
Piri Piri Flaming Chicken sells spicy Portuguese-style chicken dishes, as well as burgers, salads, sandwiches, shakes, fruit juices and desserts. Piri Piri Flaming Chicken branches are in several major Bangkok malls, but I've eaten at the locations at Emporium and Siam Paragon malls. For a Westerner desperate for a vaguely Western-looking meal, Piri Piri hit the spot.
Menu at Piri Piri Flaming Chicken – The menu, although not one of the largest menus in Bangkok, has enough for most people to be able to find something they'd enjoy.Roast chicken is, of course, the main item on the menu and it comes in varying styles. Honey Mustard, Thai Salsa, Lemon and Herb and the original Piri Piri. With the chicken, you get a side salad and French fries, which are cut thick and succulent just the way I like them. You also have a choice of chicken breast, a half chicken or a whole. If there's two or more people eating and you can agree on the same menu item, it's cheaper to get the whole chicken as it's more than enough meat for two.
There are also casual items like sandwiches and burgers, or even steaks if you feel like a slab of beef. I usually order a salad but split it with a friend as they're pricey. The Mediterranean Salad is a good choice, as it comes with cashew nuts, which are just about the best things you can have on salad. The dressing is tangy and delicious too.Add onto that a decent selection of fresh fruit shakes, fruit juices, soft drinks and beer and, for lunch or dinner, you can get something in every food group.
The Problem With Piri Piri Flaming Chicken – Now, don't forget, I said the food here is good, but there's a big reason I rarely eat at Piri Piri and neither does anyone else I know – the price and what you don't get for it.Considering there are cheap restaurants selling incredible food all over Bangkok, (and when I say "cheap", I mean as cheap as 80 cents a meal), walking into a Piri Piri Flaming Chicken and seeing a menu with prices beginning at 170 baht ($5.85) for a chicken breast and trimmings, 130 ($4.30) for a small salad and even drinks around 50 cents to a dollar higher than at other similar Bangkok fast food restaurants (yes, remember, this is fast food), Piri Piri is expensive.
Unfortunately, it looks like what Piri Piri Flaming Chicken has tried to do is con their customers into thinking they're eating at a more upscale place, simply because their branches are in upscale malls. However, when the restaurant is in a food court, open on all sides, surrounded by other restaurants like McDonalds and KFC, and you have to put up with the noise of shoppers as they walk right by your table – no, it's not upscale, so the prices shouldn't be either.
On top of the already more than double price of any similar Bangkok fast food place, Piri Piri then adds on a 7% service charge (the girls slaps it on your table and walks away) and a 10% dining-in tax. The last time I ate there, my bill came out at 375 baht ($12.75) for basically nothing more than fast food chicken and French fries, half a salad and a fruit shake. Is it any wonder I eat here about once a year?The food at Piri Piri Flaming Chicken in Bangkok is decent, their downfall is their prices are not.
In Bangkok, where for 375 baht, you can have lunch at one of the nicest restaurants in the city, nobody is going to regularly pay the same price at Piri Piri. Not unless they're tourists and don't know any better.