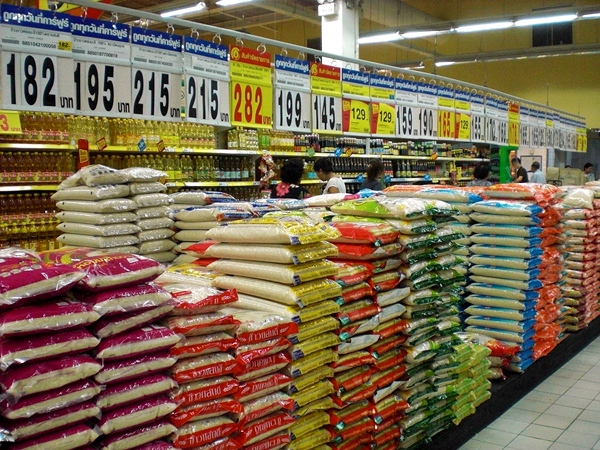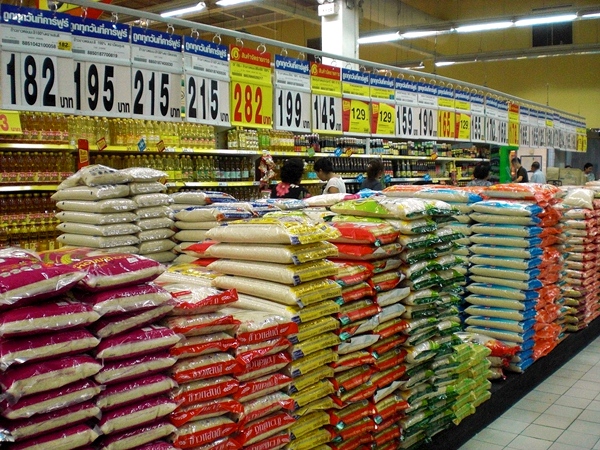 Early this year, Thailand's second largest hypermarket chain took over all Carrefour's 41 hypermarkets in Thailand, when Carrefour decided to exit the Thai market. Big C itself part of a French company, just like Carrefour, has been around in Thailand since 1993, quietly expanding, building more and more Big C hypermarkets, mini marts and Big C Junior locations.
Now it's expanded its reach even further with the Carrefour takeover, is Big C still the best hypermarket chain in Thailand or not?
Big C Locations – Big C now has 111 hypermarkets throughout Thailand, with a brand new concept store, Big C Extra at the location of one of the former Carrefour owner's most successful stores in northern Bangkok. Although some of the stores are close to each other, since the Carrefour takeover, Big C says it has no plans to close any of the stores as they have completely different client demographics.
Some of my favorite Big C stores are the Big C Extra on Ladprao Road, the supermarket I frequent the most, the Big C Rajdamri location and the massive store (a former Carrefour store) on Ratchadapisek Road.
Why Shop at Big C? – First, I have to admit I've never shopped much at Big C, not until the Carrefour takeover that is. I always preferred Carrefour, as it had more imported Western brands, and stores just seemed brighter and cleaner than many of the Big C hypermarkets.
However, since the Big C takeover, unless I want to shop at Tesco Lotus, which I refuse to shop at as I won't support a company that tries to shut down free speech, I've had no choice but to shop at Big C and, frankly, so far I'm happy with them.
Cleanliness in their stores over the years has improved markedly and they're now just as clean and well taken care of as Carrefour was. Their stores are also massive, with just about every product you could ever want on display there, so shopping at Big C is truly a one-stop shopping experience.
Big C stores have a large produce section with very fresh fruit and vegetables. Their food selection is good too, particularly at the Big C Extra store, which still offers a lot of the imported food products Carrefour used to provide.
Big C also has a good sporting goods department, an adequate pet department (although I wish they'd expand it to include more items for rabbits, particularly as they're one of Thailand's most popular pets), an excellent stationery and office supply department, sells the cutest childrens' clothing, and their electronics department (cell phones, TVs, computers, microwaves, washers and dryers etc) has some of the cheapest prices in Bangkok.
I recently bought a vacuum cleaner at Big C, that was on close-out for only $26. I've never heard of anything that cheap and the vacuum cleaner is wonderful.
I've also been pleasantly surprised with the Big C management I've spoken to in the last couple of weeks at the new Big C Extra store.
Both people spoke good English, were knowledgeable about the company and its future plans, helpful with questions I had, and seemed eager to listen to my extremely small complaints.
One department manager even promised "We will improve", when I told him the produce section at the Big C Extra branch wasn't as fresh as Carrefour's produce used to be (which I put down more to Big C still in the middle of a transition, rather than a long-term problem, as they're in the middle of using some Carrefour produce items and some Big C).
The company also has a loyalty shopper card, which gives you good discounts on thousands of items in the store. It's free to apply for. Just fill in the application form at any Big C customer service counter and they'll hand over the card there and then. Then just remember to present it to the cashier every time you shop.
Big C versus Big C Extra – Last week, Big C rolled out a new concept store called Big C Extra. At the moment, there's only one Big C Extra store in Bangkok, the one I frequent on Ladprao Road.
While Big C hasn't said yet exactly what the differences will be between Big C and Big C Extra stores, they have announced there will be more imported Western products (particularly food) along with some higher-end imported items not available in normal Big C stores.
They also plan on still buying and stocking some Carrefour products, wonderful news for someone like me who's addicted to Carrefour Swiss cheese and their chocolate granola cereal.
In fact, Big C Extra looks like it will be targeted more to foreigners with money and upper middle-class and hi-so (high-society) Thais. Something I'm certainly not averse to.
The company seems to have the understanding that many Big C customers in certain areas have a higher spending power than those in average Big C store areas, and these are the areas the company plans on opening the 'Extra' stores. From the five-plus years I've frequented a store in one of these 'higher income areas', I have to say I agree with them.
For the average Thai shopper, the normal Big C hypermarket will probably suffice. But for the customer like me who wants to be able to buy imported food, a higher quality of bread (Thai bread really isn't that good), higher end already-prepared foods and some old Carrefour products, along with better quality clothing, then the 'Extra' stores are probably the best places to shop.
For anyone else who just wants an average Thai hypermarket with cheap prices and with aisles full of Mama noodles, fish sauce, a place where you can buy offerings for the monks at your local temple, inexpensive already-prepared Thai food, and low-end linens and towels and furniture, then the regular Big C hypermarket should do you fine. Nothing wrong with it, they just don't stock half of what I want to buy. In fact, I was at a normal Big C branch yesterday and finally walked out having bought nothing, as I couldn't find 70% of the items I needed.
Overall though, I'm excited about the Big C takeover of Carrefour, particularly its Big C Extra stores and it's plans for Thailand in the next few years. Hopefully it will remain the place where I do 90% of my household shopping and still offer the great deals, good food and wide variety of products Carrefour offered me in the past.
If Big C didn't follow through on its 'Extra' stores plans though and simply continued running its normal hypermarket stores, I would no longer shop there as they don't carry what I buy.
For now, I'm optimistic and, until I see evidence to the contrary, will remain a loyal shopper at the Big C Extra store on Ladprao Road, Bangkok