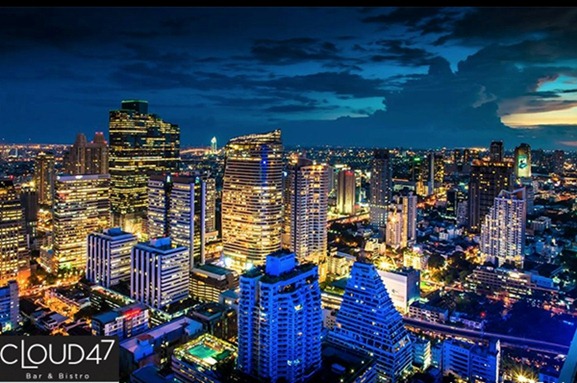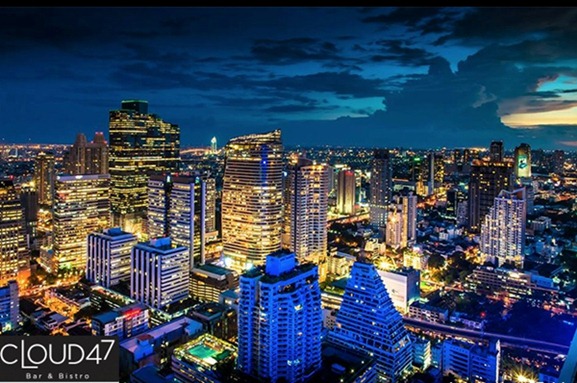 Cloud 47 Bar and Bistro is the biggest rooftop bar in Bangkok
There's a new rooftop bar in Bangkok, Thailand Called Cloud 47 Bar and Bistro. Not only is it one of the newest rooftop bars in Bangkok and one of the coolest places to hang out, it's also the biggest as it's absolutely massive.
Where is Cloud 47 Bar and Bistro?
Cloud 47 is located on the top of the United Center office tower in the Silom area of town. Easy to get to, just take the BTS sky train to Sala Daeng station, come out of the station and head down the steps to the opposite side of the street from Patpong market and start to walk away from Lumphini Park (which is at the top of the street).
Just a couple of blocks down, if you look up you'll see the United Center office tower. Head towards the back and look for someone manning a small access door. That's how you'll get up to Cloud 47 Bar and Bistro, through the doors and into the elevator.
Cloud 47 is not actually on the roof of the building itself, however, but is instead on the 47th floor. Hence the name. The bar is still plenty high enough, though, so don't worry about that as the views are spectacular as you'll soon see.
Views for miles
The first thing you'll notice as soon as you walk out of the elevators is just how enormous the whole bar area is. In fact, the bar and wide balcony areas seem to stretch for miles with incredible views out over Bangkok on all sides. Lumpini Park, the Sathorn area, the sky train running below and the Chao Praya River are just a few of the things and places you can see, but you really could stand here for hours just gawping.
Cloud 47 Bar and Bistro has two areas
Cloud 47 Bar and Bistro is split up into two main areas. The first is a very large open-air circular bar area with huge white pillars surrounding it and lots of cube tables and chairs, so you'll never have a problem finding somewhere to sit. If you walk out from here you'll see railings all the way around the edge of the roof, and from there you can check out the stupendous views. Just don't lean over too far, as it's quite a drop.
Most of the bar area does have a roof, though, except for the balcony sections at the very edge, so you can even visit Cloud 47 on a rainy Bangkok evening as, being undercover while looking out through the mist and dap, it really will look lovely.
The second area of Cloud 47 is a huge air-conditioned indoor wine bar complete with comfy plush sofas, dimmed lighting and a huge wine list. Even here, though, there are enormous glass windows so you can't miss the view out of all sides.
Don't miss the food
By the way, not only does Cloud 47 have a huge selection of beers, wines, cocktails, whiskeys and other drinks, they also serve some basic bistro-style foods and some extremely delicious cakes and desserts.
You can find out more about Cloud 47 before you go at their Facebook page, which is updated every couple of days with upcoming events and specials.
But be sure to get there soon as, at the moment, it's still pretty quiet especially before 10pm when the live music starts. Once people realize how awesome it is and what a cool hangout it makes though, it won't be quiet for long.
And, for more amazing rooftop bars in Bangkok, don't miss these top three.