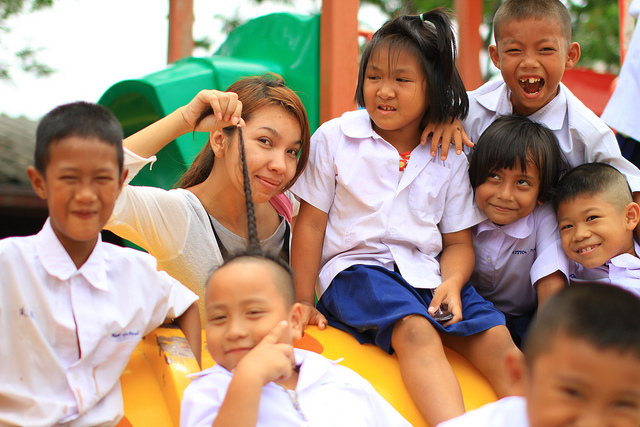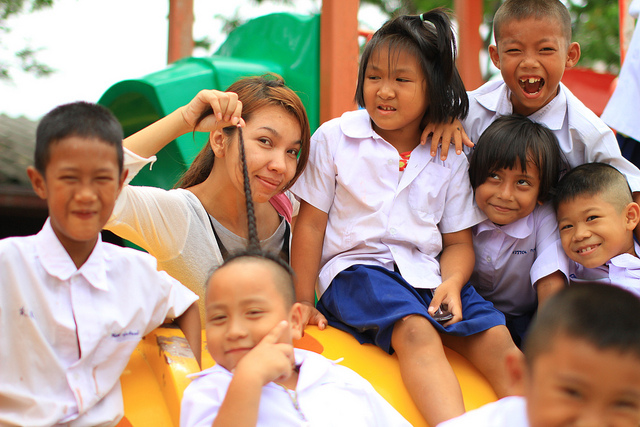 When you decide you want to teach English as a Foreign Language (EFL) and live in another country to do so, one of the things you need to take is TEFL certification.
TEFL stands for Teaching English as a Foreign Language and courses are offered all over the world. Full TEFL qualification is a 120 hour course, which includes intensive class work and student teaching. You can take the TEFL in your own country before you leave, or you can take it in the country you're going to.
I got my TEFL certification at Text and Talk Language School in Bangkok, Thailand, and, 10 years later, it is still the best decision I made for my EFL teaching career.
Why take a TEFL at Text and Talk?
There are a few language schools in Bangkok that offer TEFL certification but, after much research, I decided that Text and Talk's was the best course.
Text and Talk Language School in northern Bangkok currently offers a 120 hour TEFL certification course for just $1,495.
What does the Text and Talk TEFL include?
The course itself covers everything from basic classroom management skills, to how to write a lesson plan, effective teaching strategies, teaching children, teaching adults, teaching corporate English and much more.
But the one thing I really loved about the course, which was only offered at Text and Talk, was the module on how to teach Thais.
That is because Thais make mistakes when learning English that are actually quite easy to correct once you know why they are doing it. On Text and Talk's course, they specifically addressed what problems Thais have, how to spot them, and how to correct them.
From the minute I started teaching in Bangkok, this information was invaluable to me, yet none of the other language schools in Bangkok offer it.
What happens during the course?
During the six week course, you will have a trainer who will be with your class for the entire time. The class sizes are small, usually between 10 and 15 students, so you get a lot of individual attention, with plenty of chances to ask questions and get clarification.
From day one, Text and Talk starts to give you the experience to teach.
On the first day, we were given a small assignment to speak in front of the class. We had to choose a piece of paper from a cup and, after looking at the word on the paper, (mine was 'elephant') we then had to speak for 5 minutes about that subject. Nerve-wracking to say the least, it was a fabulous way to get our feet wet and also broke the ice with the other students in my class.
During weeks one and two, the instructor concentrates on giving information about teaching skills, with a module exam being given at the end of every module (usually one exam every week). On week three, you start to do your practice teaching.
For the practice teaching, you have to go back to Text and Talk a couple of evenings a week and give a 50 minute class on an English subject assigned by the instructor. You will have to write a lesson plan, get all your materials ready, and then deliver the class in front of real Text and Talk Thai students. A Text and Talk evaluator sits at the back of the class and grades you on your teaching.
I loved this part of the course as the students were incredibly nice, the evaluators were fair and I learned so much about my teaching skills and what problems I needed to work on.
These evaluated practical teaching classes continue through weeks three, four and five. Then on week six, you have to prepare two 50 minute classes to teach to children at a local primary school.
This was the most nerve-wracking of all for me, as children are usually the worst critics. But, when we all arrived at the school, sweaty and nervous, we were greeted by hordes of poor little Thai kids who were so excited to see a new farang (Western) teacher that we felt like superstars. Our class presentations were evaluated by one of the Thai teachers at the school, and everybody on my course did exceptionally well.
Is the Text and Talk TEFL certificate valid outside Thailand?
Of course, you will see some people online saying the Text and Talk TEFL certificate is not valid outside Thailand, because some folks just like to pass along misinformation. This, however, is not true, as I have been offered positions in Korea, Taiwan and Japan, all countries that require TEFL certification, and all the schools I applied to were perfectly happy with my Text and Talk TEFL.
In fact, Text and Talk Language School has a superb TEFL certification course, and I would recommend anybody thinking about teaching in Thailand to take the TEFL there. The course is excellent, the instructors are very good, the Thai staff is lovely, and their prices are usually very competitive.
In my opinion, you can't do better.