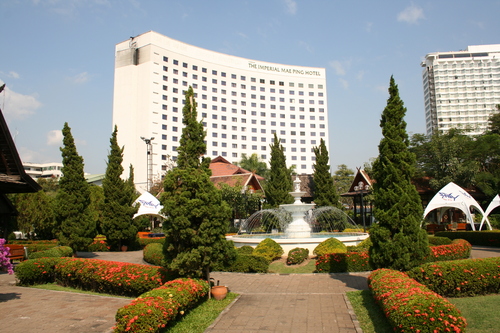 Last year, a friend and I decided we would visit Chiang Mai, Thailand for Christmas. Living in Bangkok, I go to Chiang Mai often but Christmas is special. Christmas also warrants a nice hotel so, after much consideration, we booked a room at the Imperial Mae Ping in Chiang Mai, slap bang in the center of town.
We decided to stay for three nights – Christmas Eve, Christmas Day and Boxing Day (the day after Christmas) and were astounded to see the price was only $52 a night for a Superior room. Recently, however, the price rose drastically to more than $135 a night, which is not worth it in my opinion considering the many other lovely hotel options in Chiang Mai.
In fact, overall, I doubt I would stay at the Imperial Mae Ping in Chiang Mai again, and here is why.
The Staff at the Imperial Mae Ping – In my mind, staff at a hotel make or break my experience and to say the Imperial Mae Ping staff was unfriendly was to put it mildly.
From the minute my friend and I arrived, we felt like we were being scrutinized and looked down upon everywhere we went in the hotel. In fact, we couldn't figure out why as we were well-dressed, always polite and were never demanding or a problem.
Thai hotel staff are known throughout the world as being some of the nicest and most hospitable hotel staff of any country, so it was a huge surprise to find the, sometimes, downright rudeness of the Imperial Mae Ping staff.
For that reason alone, before any other reason, I would never stay at the Imperial Mae Ping again. Not when so many other hotels in Chiang Mai have absolutely delightful staff.
The Room at the Imperial Mae Ping – The room we chose, a typical Superior Room, was definitely comfortable, but it's probably the smallest hotel room I've ever stayed in in Thailand. Used to rooms at The Empress and The Park hotels in Chiang Mai that are enormous, we expected around the same size.
With two of us in the room, plus bags, and then later on shopping bags too, there wasn't room to swing a cat round in it – literally. The bathroom was small too.
Of course, we slept well as the beds were extremely comfortable but, I prefer a bit more space when I'm staying in a hotel and not feeling like I'm sleeping in an oversized closet.
The Food at the Imperial Mae Ping – My friend and I only ate the included breakfast at the Imperial Mae Ping, all three mornings we were there. The buffet breakfast was actually very nice with lots of choices – make your own omelette station, Thai and western food, lots of fresh fruit, cereal, fresh pastries, cheese, bacon and eggs and lots more.
The only downside to the breakfast was the coffee, which was always lukewarm and, one morning, completely cold. Other than that though, as it was included in the price of the room, we were happy enough with the breakfast at the Imperial Mae Ping.
The Location of the Imperial Mae Ping – The location of the hotel is excellent. Right behind the main street that holds Chiang Mai's famous Night Bazaar, there are lots of restaurants, cafes, a Starbucks, a McDonald's, a mini mall and Thai handicraft shops within walking distance.
In fact, I used to think this was one of the best located hotels in Chiang Mai until I later stayed at The Empire Hotel on Nimmanhemin Road, which is in a much nicer area of town with even more shopping and restaurant choices.
Overall, though, you can't really fault the location of the Imperial Mae Ping hotel – especially if you like the very touristy night market as it's easy to walk to every evening.
One thing to note though, the hotel can get very noisy, especially at night. It was so loud, we had difficulty sleeping all three nights we were there when we tried to go to bed before midnight.
The Hotel Facilities and the Grounds – The Imperial Mae Ping really is a lovely hotel. All marble and comfortable chairs in the foyer, there's a hairdresser, high speed Internet, dry cleaning services, four restaurants, a health club and a fitness center.
Outside the grounds are gorgeous with lots of greenery and flowers, lovely gardens to stroll through and two gorgeous swimming pools that get quite crowded when it's hot.
Price of the Imperial Mae Ping Hotel – As I mentioned, when we stayed at the Imperial Mae Ping, we thought the price of our Superior Room at $52 over Christmas was very reasonable, particularly as it included a large buffet breakfast.
Since then though, the price of rooms at the Imperial Mae Ping has increased to over $135 a night, which was outrageous for Chiang Mai – a city where most hotel rooms are between $30 and $75 a night, $75 getting you pretty close to the top of the range.
The Imperial Mae Ping Hotel in Chiang Mai is a really lovely hotel, but because of the miniscule rooms and the unfriendly staff, it's highly unlikely I would stay here again. There are hundreds more better choices of hotel in Chiang Mai where the price is cheaper and the staff is incredibly friendly.