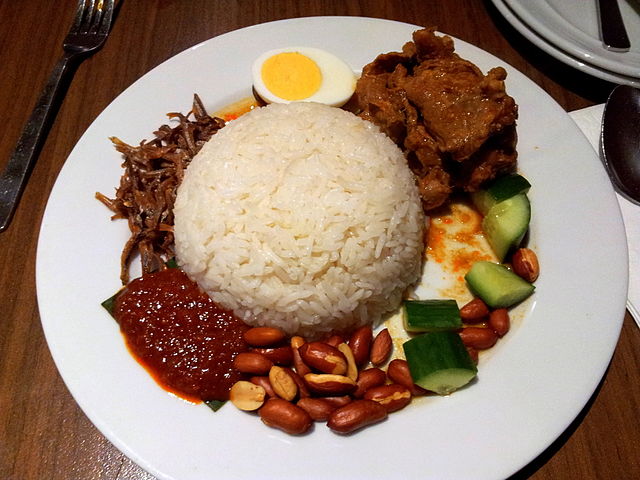 Whenever I travel to Kuala Lumpur, Malaysia, I always eat at a kopitiam. Inexpensive Chinese coffee shops, kopitiams (it means 'coffee shop' in a mix of Malay and Chinese) are known for their great food, good coffee and cheap prices, and they're a wonderful place for lunch or dinner. So, when I discovered a cafe called Kopitiam had opened at Central Ladprao mall, in northern Bangkok, Thailand, I couldn't wait to try it out. After eating lunch there yesterday, I'll definitely be a repeat customer. Over and over again.
Location of Kopitiam – Kopitiam at Central Ladprao mall isn't prominently placed, so you do have to look for it a little. Located on the top half-floor, where all the restaurants are, you'll find it right at the back of the whole restaurant area, tucked away in the right-hand corner.
From outside, it doesn't look like anything spectacular but, when you walk in you realize, behind the on-purpose, old-fashioned-styling it's cool, trendy, cleanly-designed, and has a lovely atmosphere.
Food at Kopitiam – The menu you're handed at Kopitiam is extensive. In fact, with well over 100 dishes and drinks to choose from, it took me a while to decide, particularly as I had forgotten my glasses and everything on the menu was nothing but haze.
Finally, I took courage in both hands, ordered a plate of spring rolls, and pointed at a photograph of something out of focus, something with rice. I could have asked the girl what it was, as I do speak Thai, but I decided on this day, I'd go with a little surprise.
When the dishes arrived, the spring rolls were exactly what I expected, crispy, tasty and delicious. I still had no idea what the other dish was though, as it was a stir fried pile of curried something that looked like scrambled eggs, mixed with some vegetables and some kind of meat. A cup of rice was placed next to it on the plate, and a lettuce-salad garnish to make it look prettier.
But, I bravely sallied forth and took a mouthful of the what-now-looked-like a sloppy mess and — heaven burst forth in my mouth. A slightly salty, yellow curry-flavored, coconut milk taste, with crunchy vegetables and meat. It sounds bizarre but, eureka, even though I hadn't a clue what I was eating, with all those flavors popping in my mouth at once, I could eat this dish all day.
Weirdly, I still have no idea what I ate, as the photo I took of the menu did not come out clearly, and because the waitress told me the dish name in Thai, it went right in one ear and out the other (this is what getting old does to you).
I can tell you, however, it's number 320 on the menu and it is manna from heaven. I'm ordering it again next week and, this time, I'll find out the name.
Other food on the menu includes lots of bread and toast-based meals, as that's what Malaysian kopitiam restaurants are known for. Of course, there's Nasi Lemak too, the coconut rice dish served with varying sides that's become something of a Malaysian national dish.
You'll also find fried spring rolls, vegetables with rice served in a clay pot, tofu and rice in a clay pot, chicken wings, various types of rice porridge (congee) with pork, egg, fish etc, stir fried dishes of various kinds served with rice, noodles with soup, stir-fried noodles, pork, seafood and chicken dishes, and a nice selection of traditional Thai desserts.
Plus, the shaved ice with syrup, the girl sitting at the table next to me was eating, was definitely calling my name.
For drinks, there are a myriad of choices of traditional Thai and Malaysian hot and cold drinks. I went with the Malaysian iced coffee which is less sweet than the Thai version and, to me, more satisfying, as I often find the Thai iced coffee simply has too much sugar.
You'll also find juices, Chinese jelly drinks, syrup-based iced drinks, and a number of hot and cold coffee and tea delights.
Prices at Kopitiam – Kopitiam's prices are inexpensive. Dishes begin at the 69-89 baht range ($2.30-$2.95) and go up to over 200 baht ($6) for dishes with seafood. My meal was only 139 baht ($4.75) and the portion was large.
I ate alone, as I was on a quick shopping trip, but others were with friends and seemed to order at least three dishes to share, plus rice, dessert and a couple of soft drinks.
With this amount of food, which is a lot, as portions for every dish are large, you'd still leave spending less than 350 baht each ($11.75) which for the huge amount of food you would eat is an exceptionally cheap price.
The staff at Kopitiam is lovely. The manager speaks excellent English and, even though the two waitresses who served me spoke no English, they were still able to communicate easily enough. (I don't usually let the wait staff know I speak Thai, as it gives me a good indication of how well they can communicate with non-Thai speaking customers).
So, if you struggle with Thai, don't worry, you'll end up getting exactly what you order even if you only know the Thai words "Kop khun kha" (Thank you).