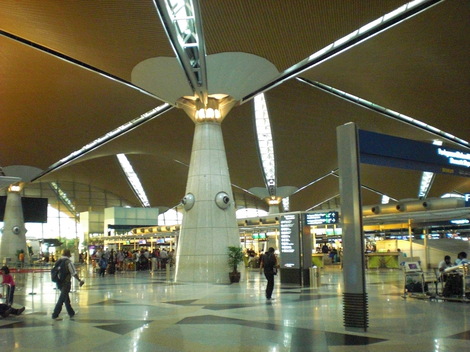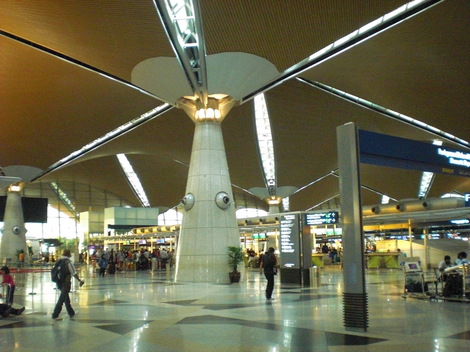 Kuala Lumpur International Airport (KLIA) is one of the nicest airports in Asia.  Unlike some other airports in the south east Asia region, traveling through KLIA is a dream. From efficient staff to excellent restaurants, a relaxed atmosphere and free airport-wide Wi-Fi internet, it couldn't be better.
Getting to KLIA from downtown Kuala Lumpur – The first thing I love about flying into and out of KLIA is the train to and from downtown Kuala Lumpur. While you might spend an hour and 30 minutes in a taxi or car to get downtown, the KLIA Ekspres (train) gets you there in just 28 minutes. Plus, at a cost of only 35 ringgit (around $11) it's so worth it.
Checking In at KLIA – When you arrive at KL International Airport (KLIA), the first thing you notice is how enormous it is. Never fear though, check-in is a dream here. From arriving at the airport to being checked in and heading off to find something to eat has never taken me more than 10 minutes. Today was an even more stellar experience as from getting off the train to being checked in on my Lufthansa flight took 8 1/2 minutes. Really can't beat that.
The Restaurants at KLIA – Unlike some south east Asian airports (Thailand's Suvarnabhumi for instance, that has abysmal restaurants and food), KLIA has an enormous selection of restaurants and cafes. Not only do you have a fair choice of Malay, Western, Thai and Italian food in the main area, there's also McDonalds, KFC and several other fast food places. When you get through customs though and into the departure area, here, you can really go to town. There's a Harrod's cafe, an Old Town Coffee Shop, a Coffee Bean and Tea Leaf and lots more. In fact, I'd recommend ignoring the restaurants in the main area (there's nothing wrong with them, just more choice in the departure lounge) and head straight for your departure area.
The Shops at KLIA – I'm in love with KLIA just for the shops. Again, unlike Suvarnabhumi in Bangkok,where there's nothing but high-end duty-free crap to buy, KLIA has normal places – bookshops, pharmacists, clothing stores, shoe stores, luggage stores, gift shops, make-up shops, you name it they have it. KLIA really is a shopper's paradise.
KLIA Design – Where KL International Airport (KLIA) wins out over anywhere else though is in the design. It's absolutely stunning. Huge ceilings, windows from floor to ceiling, incredibly high ceilings with domes and lots of lights and everything is just shiny, shiny, shiny. I see why many people say it's the most beautiful airport they've flown through. It really is.
One last thing about KLIA, the people who work there are lovely. The immigration staff are welcoming and friendly (not surly, like in Bangkok and Hanoi). The restaurant staff is efficient and every person who checks you through just seems to know what they're doing. I'll be in Kuala Lumpur again in July and I can't wait to come through KLIA again. It's just such a pleasurable experience