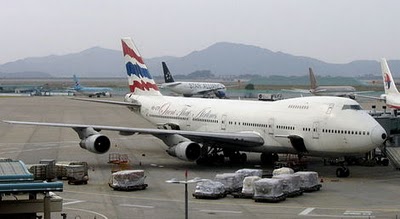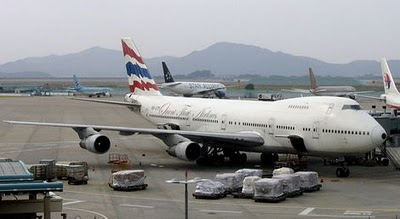 On a planned trip from Bangkok to Hong Kong, the friend traveling with me booked return flights on Orient Thai. Not ever having heard of Orient Thai, which is a small Thai airline, I was nervous of both the airline and the flight but my friend swore Orient Thai had a good reputation so we paid for the flights. On the day of our trip from Bangkok to Hong Kong, we boarded the plane and were delighted to see it was a 747 Jumbo Jet – one of the world's biggest planes. But, upon closer inspection, things on Orient Thai weren't quite as we expected them to be.
The Orient Thai Plane – Once on the Orient Thai plane, although it was a 747 Jumbo Jet, we realized quickly it was old. Not worried about the age of the plane though, as long as it was serviced well, we headed to our seats and sat down, and that's where the fun started.
We'd booked one window seat and one middle seat flying from Bangkok to Hong Kong and the same on the return flight. It was with great surprise therefore, when we turned towards the 'window' to realize there were no windows on that side of the plane – not for at least the next 10 rows – just a plastic window shape but with no plastic glass, so you couldn't actually see through it.
At that point,we asked a flight attendant if we could move to another seat and were told, as the plane was only half full, it was no problem at all. That's why we ended up sitting close to the back, 20 rows from our original seats, but this time with a window. Sitting in our new seats, it was also then we began to notice the incredible heat in the plane. Turning to ask a flight attendant, who was fanning himself with the plastic laminated "What To Do In An Emergency" card, if it was always this hot we were told, yes it was, but that it would cool down as soon as we got airborne.
The overhead seat lights didn't work either and, as the window shade wouldn't stay up on our window, we couldn't see outside.
Flight Departure Late – Our flight on Orient Thai from Bangkok to Hong Kong left over one hour and 15 minutes late. We found out later though, it wasn't because of any fault of Orient Thai, but due to problems with air traffic control. Unfortunately, for that hour and 15 minutes we had to sit in an over-heated plane that was incredibly uncomfortable. The flight attendants did come around and serve cold drinks while we waited, but it didn't help much.
Orient Thai Flight – Once we were airborne however, the flight from Bangkok to Hong Kong was nice. The staff was friendly and helpful and the food served on the flight was delicious. The pilot made up a little time lost from our late departure, and we arrived in Hong Kong only 40 minutes later than scheduled.
Cheap Fare Price on Orient Thai – One of the great things about Orient Thai is the price. Our round-trip flights from Bangkok direct to Hong Kong were only $126. An extremely inexpensive price. I've also recently checked flights again to the same destination and they still average less than $150 round trip.
Even though the plane was old and hot, and we had a delay in departure (which, again, was not the fault of Orient Thai), overall I enjoyed flying with Orient Thai and would definitely fly them again. The staff is lovely, the food was excellent and, both flights with the airline were smooth and problem free.
I will be going to Hong Kong again this year, and will book with Orient Thai as you can't beat the service or the price.
For more information look at Orient Thai's website