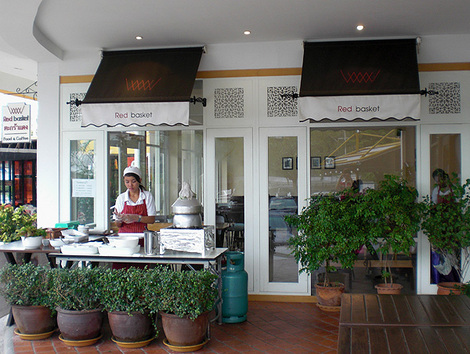 Red Basket is a modern Vietnamese restaurant that's been open in Bangkok for about a year. Located in Bon Marche market, a Thai Royal-owned upscale food market, Red Basket is a large and very trendy restaurant that serves a wide variety of Vietnamese cuisine as well as extremely delicious drinks. Red Basket is now one of my favorite Vietnamese restaurants in Bangkok and here's why.
The Atmosphere and Design of Red Basket – Red Basket is just a lovely restaurant. It's on the corner of a large side building at Bon Marche market and has enormous windows on two of the four sides, which make the restaurant very light. With three main eating areas there's plenty of seating and with the food preparation area outside, it looks quite authentic Vietnamese, albeit extremely upscale.
The light theme is carried on throughout the restaurant, with beige tiles on the floors and blonde wood accents around every area of the restaurant. Even the dark wood tables and chairs can't make this bright restaurant darker.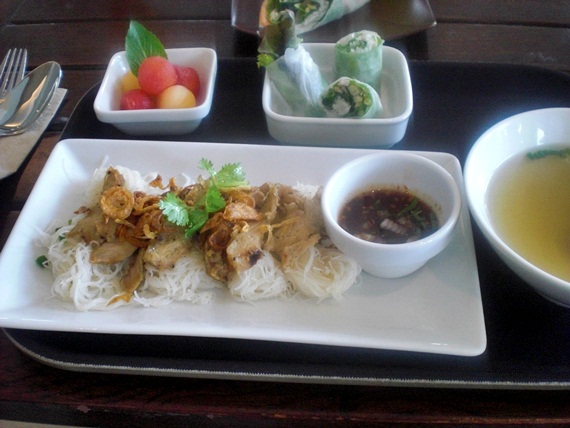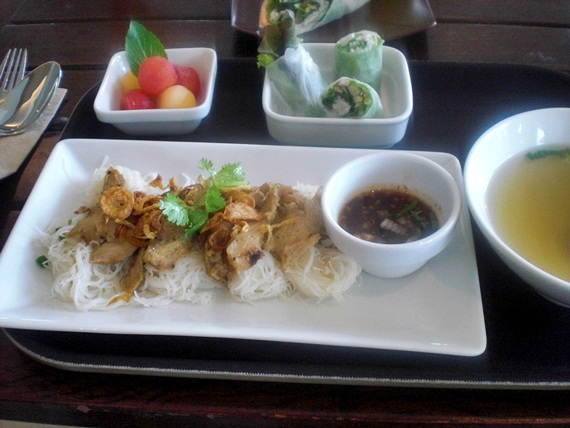 The Food at Red Basket – I love Vietnamese food as it's healthy and light. With only one Vietnamese restaurant in my neighborhood in Bangkok, I'm always looking for a new Vietnamese restaurant, so was delighted when a Thai friend introduced me to Red Basket. Red Basket is owned by the parents of one of the students I used to teach in Bangkok.
The menu is large with the typical Vietnamese options – noodles, vermicelli with pork chops, spring rolls, sour soup, fried rice and dumplings as well as a variety of set meals to choose from.
After perusing the menu, my friend and I decided to order the same thing – the duck and noodles set. This was duck in a gravy on vermicelli noodles, which also came with some wonderful summer rolls (the rice paper rolls with shrimp and vegetables), pickled vegetables, and a small bowl of soup, very similar to miso soup. We also ordered Cha Yen, otherwise known as Thai iced tea.
All the food was fresh, spicy enough but not too much, and light. I left Red Basket feeling healthy and not too full.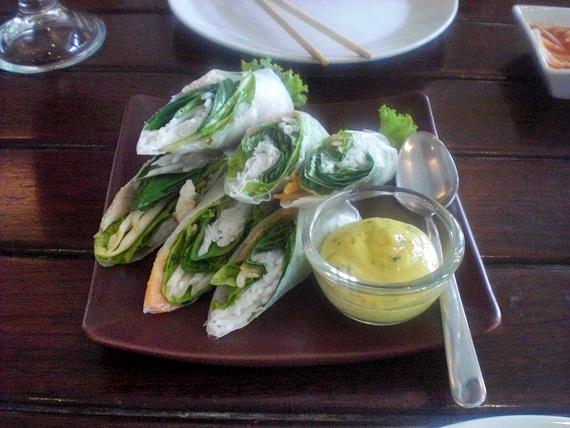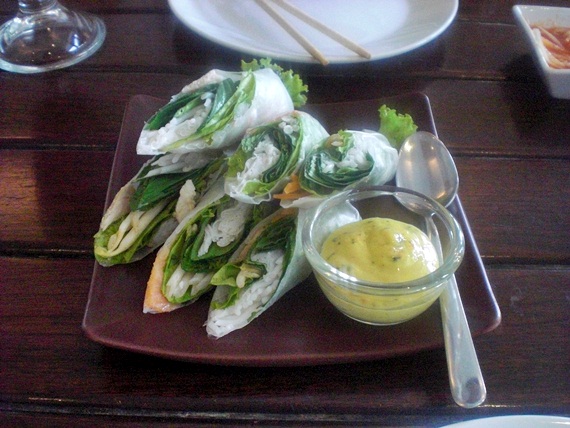 Prices at Red Basket – Prices are higher than the average restaurant in Bangkok, but still low for high-quality Vietnamese cuisine. Prices start at around 70 baht per dish (approx. $2.20) and sets were between 120 and 160 baht. Plus, Vietnamese restaurants in Bangkok tend to be higher priced than Thai, so it wasn't altogether unexpected.
The Service at Red Basket – The only thing that was a bit of a letdown was how slow the service was. We both ordered the same set, and waited more than 30 minutes before the waitress brought one set. Five minutes later, my friend waved her back over and asked where her order was. The waitress told her "coming soon". As my friend said, if we both ordered the same thing, wouldn't you think they'd prepare them both together?
It was another 20 minutes before my friend's order arrived and, by that point, mine was cold. So 50 minutes before we were both served and this at lunchtime, when most diners don't have time to wait. The restaurant also only had about 15 patrons, so we couldn't figure out what took so long.
However, to give Red Basket their due, my friend has eaten there at least 10 times and said the service had been impeccable and fast and that service this bad was unusual.
Overall, I have to give Red Basket a good review. With the minor problem of the slow service, the food was delicious and well worth just a few dollars. I'll definitely be eating at Red Basket again soon.
Red Basket is located at Bon Marche market on Prachaniwet 1, in northern Bangkok.