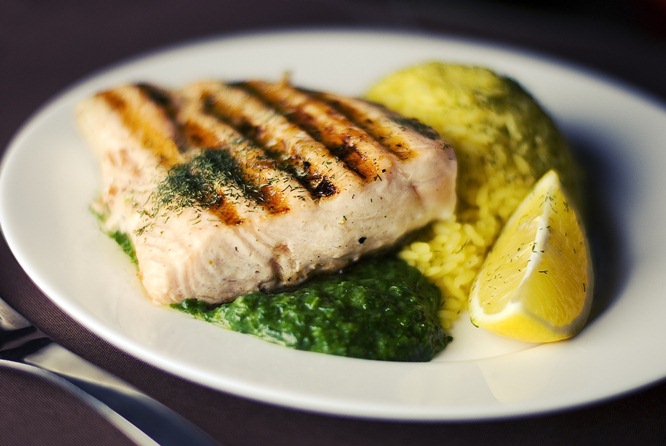 Every time I visit Kuala Lumpur, Malaysia, I make sure I try a new restaurant. New to me, but not to Kuala Lumpur, last week I ate lunch with a Malaysian friend at The Magnificent Fish and Chips (stupid name, I know).
I'd read a good review on it in Time Out magazine, the KL edition, so wanted to try it, especially as I had never eaten fish and chips in Kuala Lumpur. But, after an extremely expensive meal (almost $65 for a couple of entrees, two glasses of wine and a coffee), I have to say, I wouldn't go back and here's why.
The Menu at The Magnificent Fish and Chips – When you arrive at the restaurant, you don't get a menu handed to you like in most other places. Instead, you'll be pointed to the enormous blackboards all around the restaurant that list their regular menu plus all the day's specials.
For me with my terrible eyesight, it actually made perusing the menu a more pleasurable experience as, normally, I have to squint at the teeny menu writing and end up missing dishes I'd probably enjoy eating.
One weird thing though. You'd think if it was a blackboard menu, they would just erase the dishes they don't currently have. So, both my friend and I were surprised to find our first choices weren't available.
The Food – Concentrating on high-end British cuisine (I've read some reviews that say 'pub fare'. It's not.), there's lots of choice from typical British meals like fish and chips, pies and chips, pies and mashed potatoes, fish cakes, curried peas, to more upscale choices like oysters, Alaskan crab and fresh lobster.
My friend being an Anglophile and me being British, we were both excited to try typical British food in Malaysia and ordered accordingly.
I went with the King George whiting (fish) and chips (which at 38 ringgit or over $12, for fish and chips in Kuala Lumpur is expensive) and my friend had the Cumberland fish pie (40 ringgit – around $11). When the food arrived, the fish itself was quite tasty but the batter was soggy and not cooked correctly and just tasted odd.
My friend stirred around his Cumberland fish pie for a while, took a few bites and declared it "inedible". Funky tasting mashed potatoes, fish that still had the skin on it and a weird after taste. I love fish pie and I wouldn't have touched it with a barge pole.
After the disappointing entrees, we decided to avoid the desserts (bread and butter pudding at 24 ringgit or almost $8 was a price I couldn't believe) and asked for the check. When the check arrives, they've also added on a 6% tax, making the cost of the meal even more ridiculous.
The Price – Even in Bangkok where I live, British fish and chips aren't cheap but, in Bangkok, it's a heck of a lot cheaper than at The Magnificent Fish and Chips and edible too. That's because our bill was almost $65 for a fish pie, fish and chips, a couple of glasses of wine and a coffee.
Now considering I'd pay around $30 for the same in Bangkok, and the food would be lovely every time, I can't imagine why I would ever go back there.
Add onto that, the average price of a meal of authentic Malay, Indian or Chinese food in KL is less than $6, if this is the best British fish and chips Kuala Lumpur has to offer, it's too bad.
On top of that, the restaurant doesn't even have air conditioning (and do you know how hot KL is?), so neither my friend or I could figure out where the owner gets off with his prices. I did enjoy the chips though.