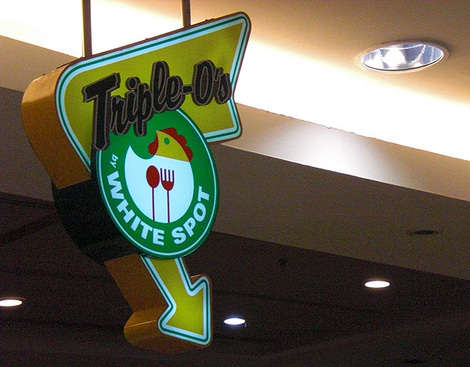 One of my recent guilty pleasures when it comes to restaurants is Triple O's by White Spot in Bangkok. Triple O's by White Spot is originally a Canadian chain restaurant that, in recent years, has expanded to Hong Kong and now Bangkok, Thailand.
Triple O's by White Spot is predominantly a burger restaurants but, oh man, what incredible burgers. They're nothing like the greasy concoctions that come out of McDonald's or the dried flat burgers at Burger King. Eating burgers (or anything else on the menu) at Triple O's in Bangkok is pretty close to heaven, and here's why.
Location of Triple O's by White Spot in Bangkok – There's only one Triple O's by White Spot in Bangkok so far and that's at Central World Mall near Chidlom BTS sky train station.
It's a great location as, being near the sky train, it's easy to get to. It's also on the top floor of the mall, right next to the big supermarket but tucked away in a little food hall that also has a stellar Japanese restaurant a Thai ice cream parlor, a coffee shop and some other upscale restaurants. Triple O's is quite an upscale burger place, so it fits right in here.
The bad thing with the location though, is it's hidden in the back where no one can see it, so most times I go to Triple O's it's empty or pretty close to. Too bad as the food could be just about the most popular fast food in Bangkok, if anyone actually knew it was there.
The Atmosphere – The atmosphere at Triple O's is actually pretty bland. It looks like a typical burger place, with black seats and small square tables and your basic boring décor. It is however incredibly clean, eat off the floor clean, and they do have a section with newspapers and magazines that you can grab while you're waiting for your food to arrive.
The Food at Triple O's by White Spot in Bangkok – The food, oh the food, it's amazing. Burgers in Bangkok, in general, are pretty grim. I don't know how many burgers I've had that have been sold as "just like home", only to find them dry, tasteless and stiff. Triple O's burgers though are unbelievable.
They arrive on the freshest roll you've ever tasted, with iceberg lettuce, tomato, and a dill pickle. Drenched in their famous Triple O's sauce, these burgers are the best thing this side of the Pacific – seriously. For 150 baht (about $4.20 – not cheap!), you can get an original burger.
The best deal though is the burger combo for 200 baht (around $5.25) as that comes with a big cardboard cup of perfect fries and a soft drink. Triple O's also has cheese burgers, mushroom burgers, veggie burgers, chicken supreme burgers and chicken strip s. I've tried all of them and they're all wonderful.
The real reason why Triple O's is so delicious though is in their motto "If you're not proud of it, don't serve it". Every single ingredient that goes into their burgers and chicken is absolutely the freshest possible. The beef is succulent, the chicken is the whitest, juiciest chicken you've ever tasted, and don't get me started on the iceberg lettuce. My oh my, it's crunchy.
Triple O's also makes hand-dipped milk shakes that taste just like home. They probably pack a pretty big calorie wallop but, now and again, I'd splurge if I was you because these babies are worth it.
Breakfast at Triple O's – Triple O's also serves breakfast, although I've yet to try that. The breakfast buns with omelette, burger, hash browns and more sound fabulous though, and they're definitely on my list to try next.
Triple O's by White Spot in Bangkok is absolutely the best burger place in the city. Like I said, it's tucked away in a terrible location, so you have to hunt a bit but think about it, the extra time you spend hunting the restaurant down will make you just that bit more hungry.