Japan Anime Movie (JAM) Thailand says Ride Your Wave, the new anime film from Masaaki Yuasa (DEVILMAN crybaby), will open in Thailand theaters in October.
Ride Your Wave has already had a moderately successful run in Japan, where it opened on June 21st, and is expected to do equally as well in cinemas in Thailand.
It has also already won the award for Best Animation Film at the Shanghai International Film Festival's Golden Goblet Awards.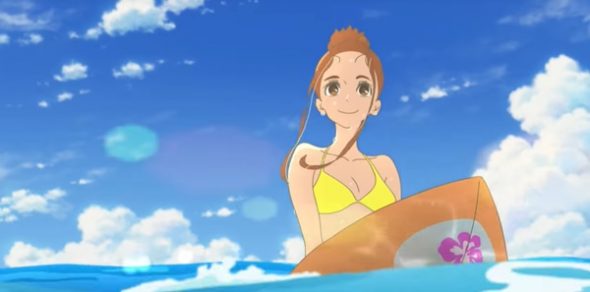 Ride Your Wave is a romantic drama that is actually quite sad.
It follows Hinako Mukaimizu who goes to a beach-side town for university and also so she can participate in her favorite hobby, surfing.
Soon she falls in love with a local firefighter, Minato Hinageshi, but he dies not long afterwards in a storm while trying to save someone's life.
Hinako is devastated, but then discovers she can make him appear in any body of water whenever she sings their favorite song.
Ride Your Wave was written by Reiko Yoshida, and stars Ryota Katayose, Rina Kawaei, Honoka Matsumoto and Kentaro Ito.
The anime film will release in Thai theaters on October 17th.
Meanwhile, listen to the theme song for the film, 'Brand New Song', sung by the film's two stars below, and watch the Ride Your Wave trailer below that.
It is in Japanese, but the animation is still beautiful to watch.
Then… try to be patient until October.
Related: Rascal Does Not Dream of a Dreaming Girl anime opens in Bangkok, Thailand on August 24th — find out where