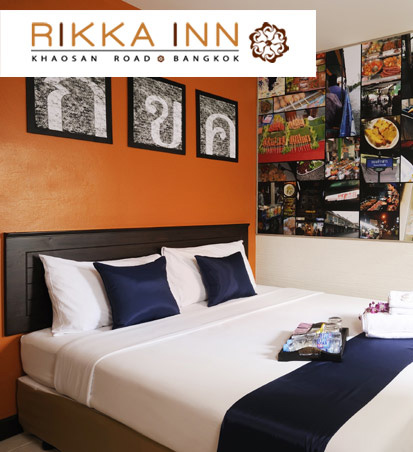 Recently, I went to Khao San Road in Bangkok, Thailand to pick up a friend from Malaysia who was staying at Rikka Inn. Rikka Inn is a new boutique budget hotel, located right on Khao San Road, and it's already created a buzz in the area as it's just so darned cute, hip and stylish. The price is right too. In fact, if you're looking for a cheap boutique hotel, located right in the middle of one of the biggest tourist destinations in Bangkok and in a neighborhood where you'll meet tons of fellow travelers, you can't go wrong with Rikka Inn. It's stylish, fun, with lots of amenities and, yep, affordable.
Where is Rikka Inn in Bangkok? – Rikka Inn is located right on Khao San Road, one of the world's most famous backpacker destinations, so incredibly easy to find. It's also across from Brick Bar, a famous Bangkok club and bar, as well as a 7-11 and hundreds of restaurants, cafes, clubs and shopping venues. Top tourist destinations like the Grand Palace, Chao Praya River, and the National Museum are within walking distance, and the Chao Praya River with all the river taxis is just down the end of the street.
Staff at Rikka Inn – Before I get started on the main nitty gritty about Rikka Inn, one thing I should point out is the staff at the hotel was not the friendliest staff I've met in Bangkok.
Living in Thailand for a decade, I'm used to dealing with welcoming and friendly Thais at just about every hotel I visit or stay at. That's why, when I barely got a smile from the girl at the reception desk both times I arrived at Rikka Inn, I was a bit taken aback. My friend too said he found the staff professional but just not warm which, coming from Malaysia and on his first trip to Thailand, he was disappointed by.
That aside though, it was the only negative I, or my friend, saw at Rikka Inn and, to me, not that surprising as, being in the Khao San Road area hoteliers get used to dealing with many rude backpackers and low budget travelers so, I think sometimes, they must be just a little tired of foreigners.
Guest Rooms at Rikka Inn – The guest rooms (and the facilities) are where Rikka Inn really shines. Advertised as a budget boutique hotel, Rikka Inn has still managed to offer comfortable, clean and, frankly, extremely unusual and stylish rooms for a cheap price.
The hotel designer started with your basic boring square hotel room and, without using anything too expensive or luxurious, transformed the rooms into trendy, cool places to stay with an interesting Thai contemporary-retro mix.
Each room (I asked to see several) is individually decorated and designed, so no cookie-cutter hotel rooms here. There's a large double bed or two twins, bedside tables, an en suite bath, satellite TV, in-room safe, a mini fridge and a work desk. Every room has air conditioning (not always normal on Khao San Road but, in my opinion, absolutely necessary as Bangkok is so hot), and although rooms are small, they've been designed to make good use of the available space.
A word of warning, the en suite baths are 'Thai bathrooms", meaning there's a tiny sink and toilet and a shower head coming out of the wall. There's no divider or shower curtain between the shower head and the rest of the bathroom, so when you turn it on the water sprays everywhere. Absolutely normal in most of Thailand but, if you're not expecting it, it can be annoying. However, bathrooms are spotlessly clean and stay even cleaner as everything in there is soaked with water every day.
My friend said the bed was wonderfully comfortable and, although the area is noisy (well, it is Khao San Road, which doesn't close down till at least 2-3am), overall he slept well.
Amenities at Rikka Inn – A big selling point for me was the free Wi-Fi available throughout the hotel, including all the guest rooms.
Rikka Inn also has a stunning outdoor pool, which is on the roof of the hotel, with a cool patio all around it and comfy chairs. It would be a wonderful place to sit at night and look out over Bangkok, but weirdly the hotel locks access to it after around 6pm, so what could have been a cool place to hang out and a place where they could have set up a bar and made a little money, wasn't so much. But, if you fancy a swim during the day, it's open and very pretty.
The hotel also has a luggage storage, handy if you need to check out but aren't leaving until the evening, and a travel desk (my friend booked a day trip through the Rikka, that he said was fun and reasonable).
Rikka Inn doesn't have a restaurant, but there'd be absolutely no need for one. Khao San Road is right outside the front door with hundreds of cafes, restaurants and food stalls cooking some of the cheapest
and most delicious food in Bangkok.
Room Rates at Rikka Inn – Depending on if you book through the hotel's website or a hotel booking site, room rates vary.
My friend paid 800 baht a night ($26.50) through Booking.com for a room in May. Currently for June and July, the same room is priced at 950 baht ($31.50), but rates change daily so keep checking various sites. Rates around the 800-1,000 baht range though are extremely inexpensive for this standard of budget boutique hotel, particularly in such an incredibly convenient location.
You'll find Rikka Inn at 259 Khaosan Road, Phra Nakorn, Khaosan, 10200 Bangkok.