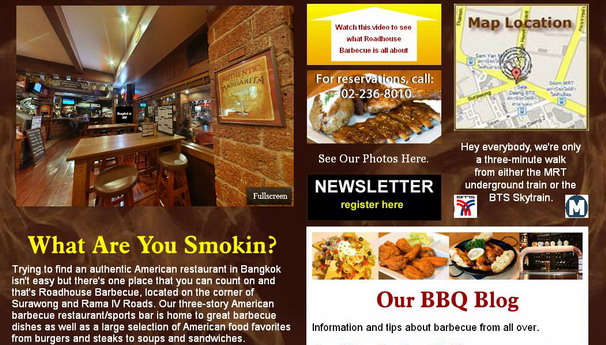 If you're an American in Bangkok, Thailand and desperate for some real downhome cooking, you can't go wrong with Roadhouse Barbecue. One of the largest barbecue restaurants I've ever seen (it's three storeys), sure, it's weird it's located in Bangkok but, when you taste the incredible burgers, barbecued ribs, steaks, pulled pork sandwiches and other American favorites, you'll think you're in America. In fact, this place isn't just amazing by Thai standards, it's phenomenal by American standards too, and you can rarely say that in Thailand.
Location of Roadhouse Barbecue – Just a couple of minutes walk from the BTS skytrain and underground train in Bangkok, you'll find Roadhouse Barbecue at 942/1 Rama IV Road, Surawongse, in the Bang Rak area of Bangkok. Take the sky train to Sala Daeng or the underground to Silom, and it's less than a five minute walk from either station.
The Atmosphere – I loved Roadhouse Barbecue for the traditional American atmosphere. If you closed your eyes while you traveled to it and didn't look out of the restaurant windows, once you got through the door, you'd have no idea you weren't in America. Hardwood floors, red-brick walls, wooden tables and chairs, and a cozy, relaxed American-bar atmosphere, if you want a taste of home, Roadhouse Barbecue is definitely the place you'll find it.
The Food – When you live in Bangkok, Thailand as long as I have (ten years), you eventually crave American food. Order it in a typical Thai restaurant though and, even if it looks the same, it tastes so far from how it would taste in America, you might as well be in Timbuktu. But, at Roadhouse Barbecue, they use only authentic American barbeque and bar-food recipes and everything they serve is true American taste.
The first thing you'll notice when you're handed a menu is how big it is. Burgers, steaks, pulled pork sandwiches, tacos, chicken tenders, buffalo wings, chili, chili dogs, hot dogs, meatball sandwiches, pork chops, and, for dessert, key lime pie, hot brownies with ice cream and cheesecake. The worst thing about Roadhouse Barbecue is you'll need a good 15 minutes just to narrow down your choices as, if you're like me, you'll want everything on the menu.
On our first visit to Roadhouse Barbecue, we shared two appetizers — buffalo wings and stuffed potato skins. The buffalo wings were an amazing deal, as we just happened to go on the night they do their free buffalo wing giveaway, so we paid for 10 and were given another 10 for free. Of course, if they're not great you wouldn't care, but these babies were wonderful. The stuffed potato skins too were superb.
For the main course, we both decided on a beef brisket sandwich with coleslaw and, let me tell you, it was one of the best I've ever eaten. Their barbecue sauce is tangy, tasty and absolutely delicious and the beef is so well cooked it practically melts on your tongue.
Prices at Roadhouse Barbecue – Now, if you're in another country, you'd expect American food to be expensive, but that's just one more great thing about Roadhouse Barbecue — it's not.
An order of 10 buffalo wings is 195 baht ($6.50), (and like I said, we also received 10 more at no charge)., chicken tacos are 295 baht ($9.75) and our beef brisket sandwiches, which come with American pickles and coleslaw, were 345 baht ($11.10). Considering many of their ingredients are flown in from the US and that the portions are massive, prices at Roadhouse are extremely reasonable.
Add on a fun atmosphere, some of the nicest staff in Bangkok, cool music, and great beer (they have 11 draft beers, and 12 bottled beers) and they didn't win the award for "Coldest Draft Beer in Bangkok" for nothing – this stuff is icy, icy, icy and so delicious, and Roadhouse Barbecue is truly one of the best dining experiences in Bangkok.