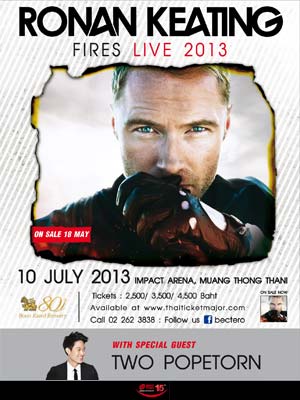 Tickets are available now for the Ronan Keating Fires Live 2013 concert in Bangkok, Thailand, but you might want to grab them soon as Keating's concerts usually sell quickly. But, this being Thailand, and Ronan Keating tickets being incredibly expensive on an average Thai salary, you may have better luck here than you would in the US or America where, compared to the country's average salary, tickets are much cheaper.
The Ronan Keating Fires Live 2013 concert in Bangkok is going to be held at Impact Arena in Muang Thong Thani (that's northern Bangkok, for anyone new to the city) on July 10th. Ticket prices start at 2,500 baht and go up to 4,500 baht.
Personally, I've never understood why concert tickets for international singers are so expensive in Bangkok and it's one big reason why I never go to them. After all, think about it, 4,500 baht (around $153) is half a MONTH'S salary for an average Thai. Ronan Keating, you should be ashamed of yourself.
Of course, if you're a Ronan Keating fan and want to see him in concert, you may not care how ridiculously expensive Ronan Keating concert tickets are. In which case, you can pick them up at Ticket Major.
Me? I'd rather spend my money on something substantial than a mediocre two-hour concert from a multi-millionaire Irish singer who is, let's face it, ripping off his Thai fans with his exorbitant concert ticket prices.
Then again, he isn't above ripping off his European fans either it seems, as this news story about Ronan Keating charging 400 euros for a 'meet and greet' with fans earlier in the year talks about.
Thai singer Two Popetorn is the opening act. Popetorn begins the concert at 8pm, with Ronan Keating appearing on stage at 9pm.