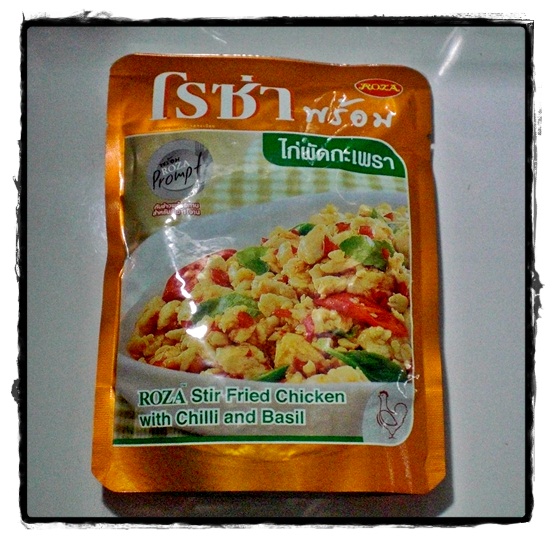 I've seen Roza Ready Meals on the shelves of local Bangkok supermarkets a thousand times but, until this week, have never bought any. Then, while standing in line at Villa supermarket on Friday, I noticed the western guy standing next to me had at least 6 small foil pouches of Roza Ready Meals in his basket, so decided to ask him if they were worth buying.
With his seal of approval, as he said they tasted great and were a good, convenient and quick meal, I grabbed myself a couple of pouches to try — Roza Stir Fried Chicken with Chilli and Basil, and Roza Red Curry with Chicken.
Each meal comes in a small 85 gram pouch and serves one. To make it you just open up the foil pouch, pour the meal onto any type of rice you want (I prefer Thai jasmine rice), microwave and serve. At 22-25 baht per pouch (around 70-80 cents), they're an incredibly cheap meal as well. But are they delicious?
Oh yes they are! And honestly, I was surprised at how much. In fact, both of the meals I tried tasted just like the same meals I normally buy at various Bangkok food courts and restaurants. Authentic classic Thai cuisine at a very cheap price.
What's even nicer about these small Roza Ready Meals is they're a perfect portion for a not-too-large lunch, and as they use mainly fresh, natural ingredients with only some seasoning sauce and disodium 5′-ribonucleotide (1 percent) added, I don't feel guilty about eating one a few times a week.
You can pick up any of these Roza Ready Meals at most Thai supermarkets in Bangkok and elsewhere in the country, as well as buy the larger Roza boxed ready meals, which come with rice. They're all just stored on the shelf, usually close to the canned tuna, mackerel and meats.
As none of these meals need to be refrigerated, as the food in them is stored in foil pouches and will last for up to a year, they're also great for people who don't have a lot of freezer space but still like ready meals now and again.
Am I a new Roza ready meals fan? Yep, I certainly am.
Meanwhile, you can find out more about all Roza's ready made meals at their website (and, yes, it's in English) or watch the video below.