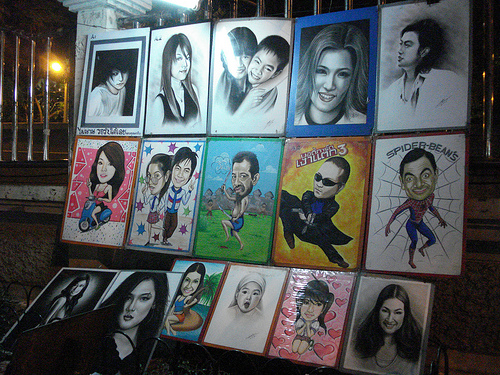 Saphan Phut is one of Bangkok's most authentic night markets. That's why, shopping at Saphan Phut Night Market should be a must-do for every visitor to Bangkok. Not only is everything they sell dirt cheap, but the street stall food is incredible too.
Location of Saphan Phut Night Market – Saphan Phut is what the Thais call 'Memorial Bridge'. The Saphan Phut Night Market is located around Memorial Bridge, and is a massive market that's been going on in Bangkok for decades. You'll see it stretching for a long way, on both sides of the road, and crammed with stalls selling every kind of product and street stalls selling tasty looking food.
What to Buy at Saphan Phut Night Market – If you're looking for new items or second-hand or vintage, you'll find both types here. Many of the stalls selling new items sell clothing, shoes, accessories, bags, purses and belts. You'll find few typical 'Thai souvernirs', ie: those sold to tourists, which is a good thing as you can guarantee everything you'll buy at Saphan Phut is authentic.
T-shirts are an especially good deal, starting as low as 99 baht ($3.3) for top quality shirts. Of course, there are some stalls selling the "Same Same But Different" shirts or "I Love Thailand", which tourists love so much, but there are more of the surfer, sports personalities, indie music and independent designer t shirts here than the former.
Jeans, pants, skirts, shirts and dresses are also worth buying. Dresses can be bought for as little as 199 baht ($6.50) and skirts for 150 baht ($5) on up.
There's a huge selection for men, women and children, so anyone looking for new clothing is bound to find lots of items here.
If you want to buy sports shoes, running shoes, casual shoes etc. there are many stalls at Saphan Phut selliing them and with some price tags as low as $6.50, you're not going to find them cheaper anywhere else.
There are even a couple of tattoo shops, if you've always wanted to get a Bangkok tattoo.
Eating at Saphan Phut Night Market – Locals know Saphan Phut as one of the best places in the city for street stall food. There's everything from noodles to som tam (papaya salad), Pad Thai, pork balls on a stick, grilled squid, spicy sausages, chicken and rice and hundreds more dishes.
Eating at street food stalls in Thailand is where you get the authentic Thai food and, with prices as low as 30 baht ($1) for a dish, it's a great way to sample a few dishes you've never eaten before.
Don't worry about eating street stall food either. I've lived in Thailand for nine years and eat several meals a day at food stalls. In nine years, I've only ever been sick once in Thailand, because of something I ate, and that was from a bag of watermelon. The other 2,000 times I've eaten watermelon (I eat it every day), I've never had it make me ill.
Getting to Saphan Phut Night Market – The market runs every night from 5pm until 11pm, except Wednesdays. It's easy to get to it by taking a boat on the Chao Praya. Take the BTS sky train to Saphan Thaksin station, and hop on a boat from here going north (going towards your right-hand side). Get off at the Saphan Phut pier, and you'll see the market almost as soon as you get off the boat.