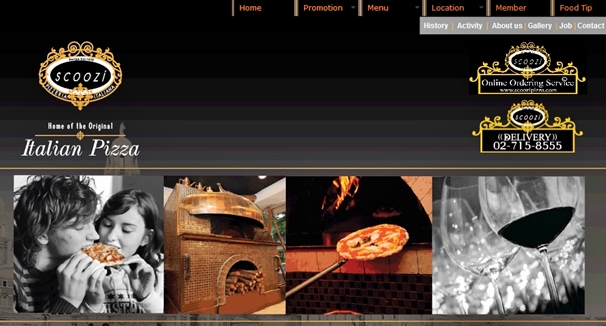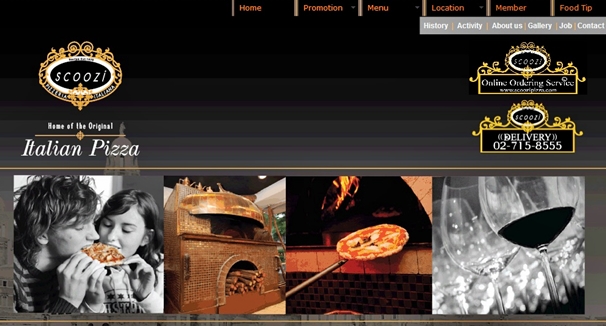 I ate at Scoozi Pizzeria Italiana in Bangkok, Thailand, for the first time a couple of years ago when a friend and I were at a mall and looking for something to eat that wasn't Thai food. The mall had just opened, everything was new and Scoozi Pizzeria Italiana looked so western, we just had to try it. Two years later and Scoozi's is still our favorite Italian restaurant in Bangkok. Luckily there's eighteen of them.
Location of Scoozi Pizzeria Italiana – Scoozi's is a chain Italian restaurant that's owned by a Thai family. The first restaurant I ate at was one of their newer branches at Avenue Ratchayothin, a food mall in northern Bangkok.
Since then, I've eaten at the branch at Esplanade Mall, a branch at Surawong Pavilion and their piece de resistance, the branch recently opened in a 100 year old traditional Thai house on Suriwong Road. And, let me tell you, they're all spectacular. (For the other locations, check out their website).
Atmosphere at Scoozi – The first thing my friend and I loved about Scoozi was the atmosphere. It's bright, open and airy and just feels chic yet relaxed the minute you walk in. Add to that the friendly wait staff and Scoozi Pizzeria Italiana is already a winner when you walk through the door.
The Menu – On our first visit to Scoozi, we had a hard time choosing as the menu is enormous. Starting off with the gourmet pizzas, you have a choice of their traditional pizzas, hot and spicy pizzas and special pizzas. We split a Margherita Pizza which, when it arrived, was almost perfect. A thin crust, just the right amount of tomato sauce, (could have done with a little more cheese), fresh basil and a drizzle of olive oil. Yum!
Following that, we split a bowl of Carbonara Pasta (very creamy) and a Caesar Salad (crunchy fresh) and both were excellent. We finished the meal with two desserts (I don't split dessert), a Chocolate Mousse and a Creme Brulee and, again, delightful.
Since that first visit, I've eaten just about everything on the menu at least once and haven't been disappointed yet. With choices from pizzas to pastas, soups, salads and antipasta, plus dessert, cake and ice cream, if you can't find anything you like here, then you obviously don't like Italian food.
Prices at Scoozi – For what technically is a gourmet Italian pizzeria, you'd expect particularly in Bangkok that prices would be high. They're not. For everything we ate, the bill was around 1,200 baht (about $39), which for the generous portion sizes and the fresh and authentic ingredients is a steal.
I've eaten at a fair few Italian restaurants in Bangkok and, while some are wonderful and some aren't, one of the ones I consistently go back to is Scoozi.
Finally, if you ever hear of a restaurant in Bangkok called Tuscany and want to try out a new Italian place. While it is one of the best restaurants in northern Bangkok, you must ignore the name and the Italian villa-style building its housed in as Tuscany actually serves Thai food. I do highly recommend it, though.