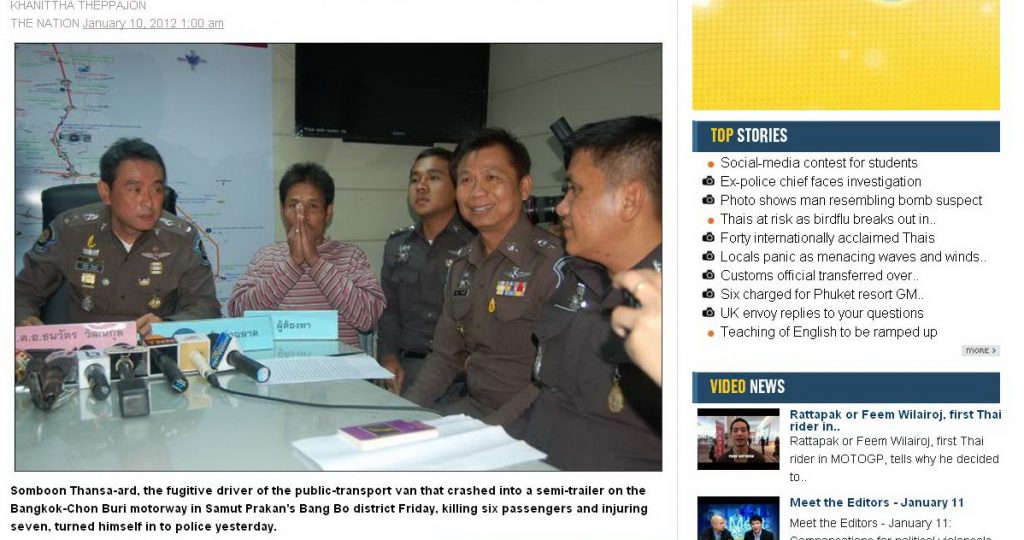 Yet another passenger van traveling the morning route from Bangkok to Chachoengsao has been involved in an accident and, yet again, the driver was at fault. The first accident happened last week, when a passenger van traveling at high speed hit the rear end of a 10-wheel truck and burst into flames. Six people were killed in that accident and seven others severely injured. This morning's accident has injured fourteen people, one seriously.
Of course, as usual, the van driver wasn't paying attention or driving too fast. When questioned by police he simply said he didn't see the back of the truck. (Seriously. How is it possible to miss seeing something that big?) He has been charged with reckless driving.
The driver in last week's accident, Somboon Thansa-ard, initially fled the scene, and then came forward and gave himself up to police. He was charged with reckless driving causing death, injury and property damage, and for fleeing the scene without helping victims or presenting himself to police. When interviewed by police, he said he felt sorry for what had happened and now wants to be a monk. What's betting his punishment will be light!