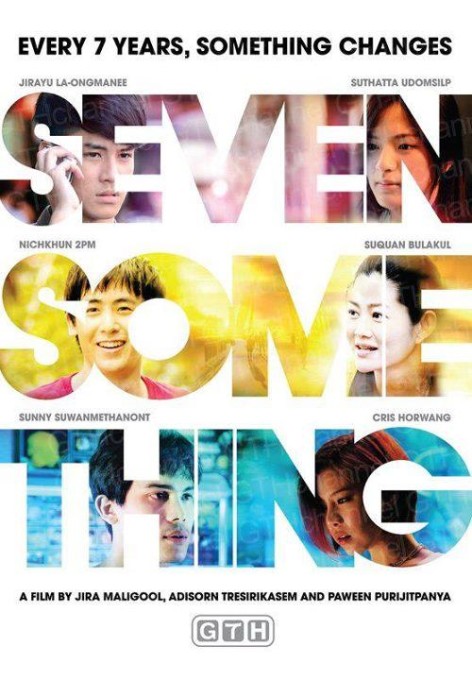 Nichkhun Horvejkul that oh-so famous Thai-Chinese/American singer and member of the Korean boy band 2PM (got all those nationalities?) is now about to become a famous movie star. His new movie Seven Something will be releasing in Thailand next week and, from the trailers I've seen, it looks like it may be good.
Seven Something is the 7th anniversary film from film company GTH and is actually a movie in three parts, directed by three different directors — Jira Maligool (Mekhong Full Moon Party), Adisorn Tresirkasem (Bangkok Traffic Love Story) and Paween Purijitpanya (Body).
It tells three stories of love and life across three generations and of 7 people – three couples plus an extra girl (Opal Panisara).
Nichkhun is half of one of the couples. The movie also stars Cris Horwang of Bangkok Traffic Love Story (Lot Fai Fah Ma Ha Na Ter) fame. As she and Opal Panisara are two of my favorite Thai actors, this movie is a must see for me.
Meanwhile, this is what GTH is saying about Seven Something –
In the journey we call life; age is no different from the number of kilometers we see on the kilometer stones as we pass by. The kilometers make us think of the distance we have travelled so far yet points out how far we still have to go.

The first 14 KM we are fresh and full of energy and the goal is to win.
The next 21-28 KM is the half way marker where you determine whether to keep running or go back. We must decide.

The finish line 42.195 KM is very far, but having someone running along with you can make all the difference.

There are times that we have to confront changes, sometimes happiness turns into sadness and loneliness turns to warmth. This is a film that will encourage us. No matter what happens along the way of your marathon of life – Tell your heart to "keep running".
Watch the preview trailer (with English subtitles) to see what you think, but I think they may just have run a marathon with this one. It looks truly superb.