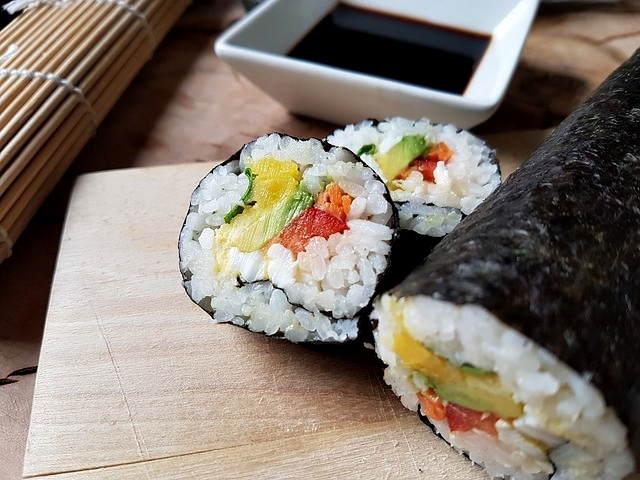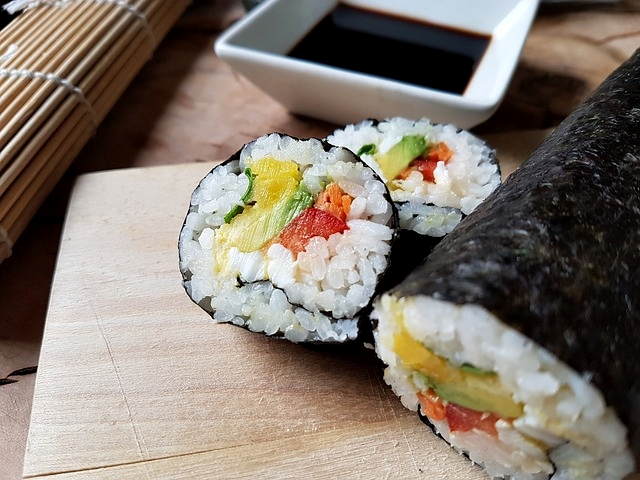 Thais love food and eating more than any other nationality in the world. They also adore Japanese sushi and particularly if it's in an all-you-can-eat Japanese restaurants. So, with a combination of the two, the all-you-can-eat sushi bar at Shabushi by Oishi restaurants in Thailand is a surefire winner.
But is the food good and is it worth it?

What is Shabushi by Oishi? – Shabushi by Oishi is a chain of Japanese restaurants famous for its all-you-can-eat sushi. When you arrive at Shabushi, you are shown to a seat at a counter in the restaurant and, in front of you, there's a conveyor belt which rotates around the entire restaurant.
On the belt is plate after plate of many varieties of sushi, vegetables, and other simple Japanese dishes, which the diner grabs as they go by.
You can eat as much as you want within a time limit of 90 minutes and then pay a set price upon leaving. The price also includes all-you-can-drink green tea and all-you-can-eat dessert. Normal price is between 290-350 baht ($9.65-11.65).
Two Ways of Eating at Shabushi – Some diners go to Shabushi by Oishi just to eat the sushi. With around 20 different types of sushi from California rolls to salmon nigiri, spicy tuna and spicy shrimp rolls, you can take as many sushi dishes as you like within the 90 minute time limit, and really fill up.
A second way of eating is to have the shabu-shabu, a type of Japanese soup you make yourself at your table. The waitress brings a hot pot of water and various sauces then, as the plates of food rotate on the conveyor belt, you help yourself to plates of raw chicken, pork, beef or shrimp and place these in the hot pot of water in front of you to cook.
Next you add plates of raw vegetables that are also circulating on the conveyor belt. Cook everything for a couple of minutes, then remove the food with your chopsticks, dip into one of the sauces and eat. This is also included in the all-you-can-eat price.
Is Eating at Shabushi by Oishi Worth the Price? – With so many excellent restaurants to choose from in Bangkok, to me, Shabushi is not worth the price.
The food isn't all that fresh, the meat and fish is quite low quality so there is definitely a 'tasteless' issue quite a lot and, in some cases, it is not real crab or certain types of fish, only the fake variety.
Unlike at other shabu-shabu restaurants, the vegetables too are often not fresh and are limp with no flavor. The whole point of a good shabu-shabu is to use crispy vegetables for the hot pot or they lose their flavor.
The other drawbacks to eating at Shabushi are the incredible lines of people waiting, meaning if you want to eat at 12pm, you'd better arrive at 11:30 as you'll always have at least a half hour wait.
Add onto that the annoying fact a huge majority of Shabushi's customers are loud teenagers in large groups, and for me Shabushi really is one of the last Japanese restaurants I'd eat at in Bangkok.
If you're looking for cheap Japanese food and want to be able to eat a large amount, then Shabushi's all-you-can-eat Japanese buffet is a good deal.
If you want fresh, tasty Japanese sushi or shabu-shabu, I'd recommend eating at Oishi, Fuji or an independent Japanese restaurant before spending your money at Shabushi by Oishi.
You'll find many branches of Shabushi all over Bangkok at shopping malls like MBK, Central World Plaza and Central Ladprao.