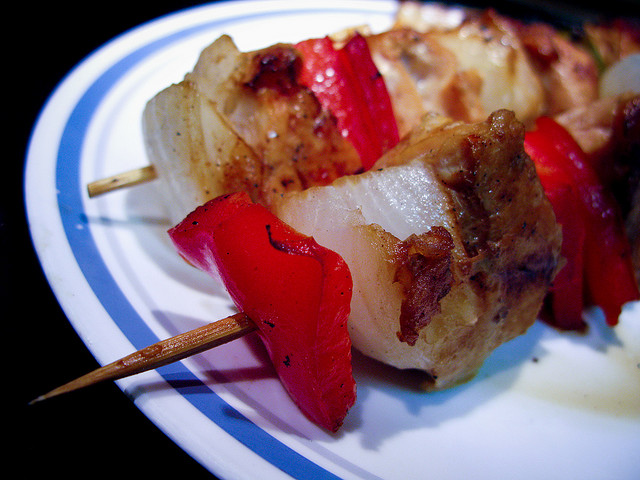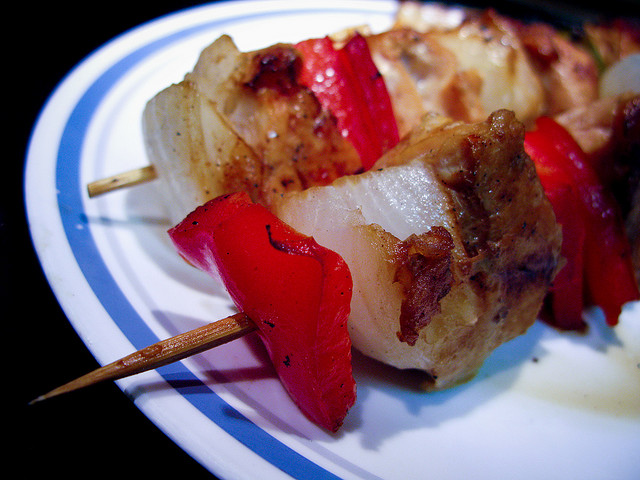 Just a small restaurant down a little soi (street) just off Sukhumvit Road in downtown Bangkok, Shahrazad serves some of the best Middle Eastern food in Bangkok. Eating here the first time, you realize quickly, it's not surprising this place is always packed. The food is superb, the service is good and the prices are cheap.
Location of Shahrazad – Easy to find, just take the BTS sky train to Nana station and walk the couple of blocks to Sukhumvit soi 3/1 . You'll find Shahrazad on the left hand side just inside the soi. You'll know it from the brick oven outside and the chef merrily cooking away at it.
Food at Shahrazad – While Shahrazad doesn't go in for fancy food or try to create a new 'fusion food', what they do serve is superb, tasty, down-home Middle Eastern cuisine. It's all cooked fresh while you wait, and arrives at your table steaming hot. They also serve some of the best Nan bread in Bangkok, as it's cooked in the brick oven and immediately served piping hot.
The menu at Shahrazad isn't particularly large but there's plenty of choice. If you're not sure what to order, the owner is excellent at suggesting a couple of dishes too and, when we've had him do that, we've never been disappointed.
On my visits to Shahrazad, I normally order a couple of orders of Garlic Nan to get started (it's great to rip into, all hot and toasty, while you're deciding what else to order). The hummus is also a must-order, and it's perfect for dipping the Nan bread into. If you like lamb, it should be the first thing you choose to eat and the babaganoush (baked eggplant mixed with olive oil) is superb. The grilled chicken is also lovely and peels easily off the bone the minute you take hold of it. In fact, in the more than ten times I've eaten at Shahrazad over the years, I've never once eaten anything that wasn't simply perfect.
To a westerner, who's used to hot food, saying the food at Shahrazad appears at your table fresh off the grill and steaming hot probably doesn't sound like much. But, in Bangkok, where most food you order arrives lukewarm at best, and often even cold, to eat at a place like Shahrazad where every meal is served to your table only a minute after it's finished cooking, you've no idea how rare (and wonderful) that is.
Of course, not everything is perfect. The staff aren't the friendliest bunch but they do give you efficient service and, it's actually not that they're unfriendly, just not particularly effusive. Not something I care about as long as the food stays so perfect.
You'll find Shahrazad Restaurant at 6/8 Sukhumvit Road, Soi 3/1 in Bangkok. They start serving at 10am (and be warned, by 12:30pm it will be heaving with people) and stay open until 2am, so if you're out nightclubbing Shahrazad is a wonderful restaurant for a late-night meal.