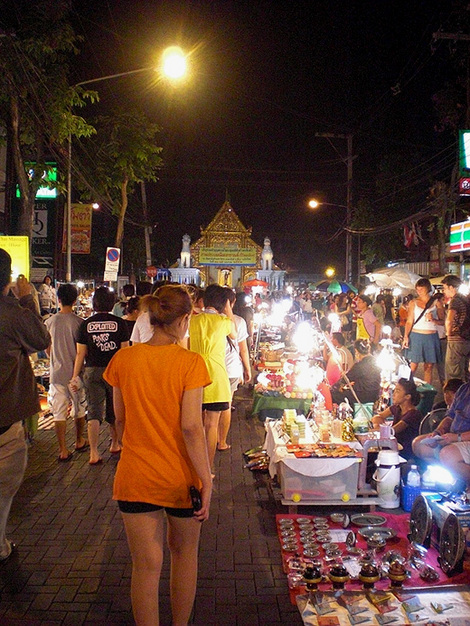 If you're looking for the best place to shop in Chiang Mai, the Sunday Walking Street Market in Old Town on Rachadamnoen Road is the best opportunity for buying amazing Thai handicrafts, clothing, shoes, food, handmade soaps, dolls, pillow cases, art work and more – and at incredibly cheap prices. Here, you'll not only find Thai crafts and products you won't see anywhere else, it's also located in an area full of coffee shops, sidewalk cafes, bars, restaurants, beautiful Thai temples and more food stalls than you've ever seen.
Chiang Mai's Sunday Walking Street Market is located in Old Town, (the area with the old city wall and the moat). On Sundays around 4pm, the city closes off the entire street (which stretches for at least a mile), plus other streets off the main road. Then stall keepers start to set up their wares. Starting at the beginning of the market by the new Black Canyon Coffee restaurant, you'll see stalls selling photograph frames, hill tribe pillowcases and bed spreads, handmade jewelry, slippers, bags, Thai silk shawls and scarves – pretty much anything you can think of.
At the Sunday Walking Street Market, you will also see Thai products you have never seen anywhere else as many of the products are OTOP (One Tambon, One Product) items that are only available in northern Thailand. Unlike other markets, everything is also at 'Thai prices', which means you'll get a similar or the same price as a Thai person for most products. At other markets, if you're a tourist, you will never get Thai price, even if you're with a Thai.
If you keep walking down the street following the crowds, you will see stalls on both sides of the street and in the middle. The best way to see everything is to walk down one side of the street all the way to the end, and then turn around and walk back up the other side. On the way down the main street, there are also two large intersections, where roads lead off on both sides. More street stalls are on these road so I suggest walking down one and back up, then down the other one and back up, and then continue on down the main street in the same direction you were going.
I visited the Sunday Walking Street Market last Sunday. My Thai friend and I spent about four hours there and, during that time, I spent around $75. For $75 I bought two original paintings, three pairs of slippers, a make-up bag, a pair of earrings, two handmade hill tribe tapestry pillowcases, one hand-stitched cotton pillowcase, two handmade dolls complete with carry bags and postcards telling the story of the dolls, a pair of hand-painted shoes, two photograph frames, a handmade pottery bowl, a cell phone case, a chalk board, a bag, and a necklace. I also bought two iced lattes, two barbecue chicken skewers, and a raisin pancake. Not bad for $75 – and definitely 'Thai price'.
If you want to visit the Sunday Walking Street Market, it's held every Sunday in Old Town Chiang Mai. You will see market stalls and a stage with performers set up outside the city walls. This is not the market though, just an overspill area.
Walk through the old city gates following the crowd, cross the street and you are right at the beginning of the Sunday Walking Street Market on Rachadamnoen Road. The market opens at around 4pm and closes at 11pm every Sunday. Make sure you take a lot of money (you'll need it!) and also carry your bag close to you at the front of your body as, like any crowded area in any country in the world, there are pickpockets (although in almost a decade in Thailand I've never had anything stolen).
Try the food and drink at the food stalls and make sure you meander off the main road to see the three or four huge Thai temples that are all lit up at night and replete with monks and Thais paying respect.