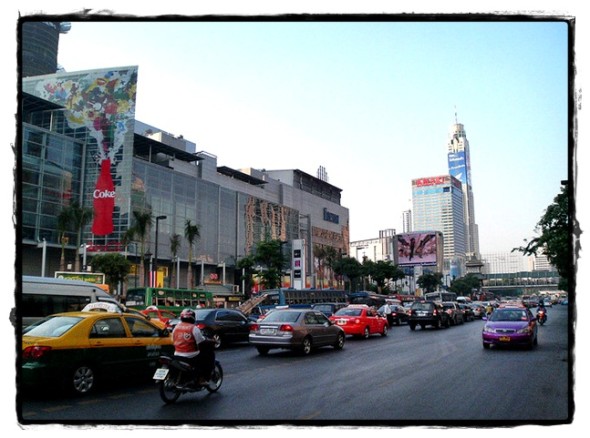 Before I moved to Thailand, I arrived in the city on holiday and was surprised to see a shopping mall in Bangkok called the World Trade Center. After 9/11, of course, the name was changed and, now, it's known as Central World Plaza.
Up until 2006, Central World Plaza was an average Bangkok shopping center. Then, after a multi-million dollar renovation, it was transformed into not only the biggest shopping mall in Thailand, but also the second largest shopping mall in south east Asia. Central World Plaza is now my favorite shopping mall. Much of the time, I don't even consider shopping or eating anywhere else, and here's why.
Central World Plaza's Atmosphere – Since the 2006 renovation, what used to be a quite old-fashioned Bangkok mall is now ultra-modern yet with style. Surrounded everywhere by enormous glass windows, steel, chrome and marble, and with some of the trendiest and coolest shops, restaurants and cafes in Bangkok, Central World Plaza is the place to be. From the minute you walk into Central World Plaza, you feel stylish, hip and chic.
Central World Plaza's Shops – What I love about Central World Plaza is, unlike its rival Siam Paragon that's simply loaded with high-end designer shops and nothing more, Central Worlds' shops are more mid-range with something for every price range. My favorite Spanish clothing shop, Zara, is here, as are the British stores TopShop and Marks & Spencer.
Thai stores like Naraya and Jim Thompson are mixed in with Guess, Timberland and Esprit. Last year, Thailand's first The Gap store opened at Central World, and I knew right then I'd found my dream mall.
Here you'll find large electronics shops, computer stores, jewelry stores, shoe shops, make-up shops, sports shops, a Toys R Us, two enormous Japanese department stores (ZEN and Isetan), an excellent Kinokuniya book store and a large Asia Books, as well as a branch of just about every bank. With so many choices at Central World, there's no need to ever shop anywhere else.
Cafes and Restaurants – Probably the most popular place in Bangkok to eat and relax over coffee now, Central World Plaza has more than 100 restaurants, with more opening every month. Japanese favorites like Ootoya, Nobu Shabu, Kabuki and MOS Burger mix in with Lee Cafe (Chinese food), BreadTalk, Coca and MK. American fast food chains like McDonald's and KFC compete with healthy food restaurants such as Gialong Vietnamese and fresh fruit, Mango Tango and salad places.
For a great place to get coffee in a trendy coffee shop, this is also the place to go. Every floor has several awesome coffee and dessert shops in the mezzanine areas overlooking the floors below. Each is designed in fashionable and hip styles, so you always feel chic when you're hanging out at one. There's a Starbucks, a Whittard's of Chelsea, a Black Canyon Coffee, Au Bon Pain, Bar Italia, and Coffee Beans by Dao.
Dessert and ice cream lovers will go nuts here too. I-Berry Ice Cream, Baskin Robbins, New Zealand Ice Cream, Lemon Cherry Cafe, Gelate, Haagen Dazs, Cafe de Bliss and about 50 other places sell gorgeous cakes, cookies and ice cream.
Don't miss their stylish food court either. The food is inexpensive, there's lots of choice and everything I have eaten there has been exceptionally tasty.
Central World's Location – Easy to get to, Central World Plaza is in between Central Chidlom BTS sky train station and Siam BTS sky train station in downtown Bangkok. From either station, it's less than a five minute walk and all the walking is on the sky bridge so you avoid the sidewalks and traffic below. It's also a covered walking area if it rains, which it does every day in rainy season in Bangkok.
SFX World Cinema Movie Theater – On the top floor is Bangkok's best movie theater. With 15 screens, and one special movie theater alone that holds 900 people, this is the place to come for the supreme movie experience. Enormous screens, surround sound, stadium seating (oh so comfortable) – this place beats any movie theater I've ever been to in the US by miles.
I love Central World Plaza. I salivate when I'm arriving at the door, and cannot wait to get inside, stroll around window shopping, get a coffee and watch the world go by, then meet friends for dinner, and I honestly think you'll agree with me.
In fact, if you are looking for the absolute supreme shopping mall experience, better than you will find in any American or European city, you cannot miss beating a path to Central World Plaza's door. You'll leave there wishing there was one at home near you.