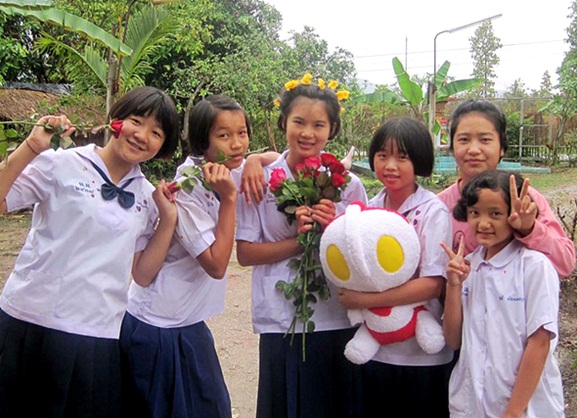 Should You Backpack Around the World During Your Gap Year or Teach English in Asia?
During my 12 years living in Bangkok, I've met a lot of young people who have been backpacking around the world as part of their 'gap year'. In more recent years, however, I'm meeting even more who have decided to avoid the typical year-off backpacking adventure and find a job teaching English in Asia instead.
If you have decided to take a gap year between high school and university, or university and the real world, should you backpack during your gap year or teach English in Asia instead?
Seeing many different countries – While backpackers tend to visit a lot more countries during their gap year abroad, someone who is teaching English in Asia will usually settle in just one country with maybe a couple of short holidays in neighboring ones. If you want to see as many countries as possible during your year off school, then backpacking is definitely the way to go.
Immersing yourself in a new culture – While someone backpacking during their gap year will learn something about many different cultures, as most of it is done with just a week or two in each country, and much of it in the company of other backpackers, it's rare you'll do more than skim the surface of any culture.
Someone teaching English in Asia during their gap year, however, immerses themselves in one culture for a year, and sometimes even more. Their friends will be Thai, Korean, Japanese or Malaysian, they'll learn all about the customs of Thailand, Korea, Japan or Malaysia, visit local festivals and events, live off local food and, all in all, be almost as native as the natives. If you want to immerse yourself in a new culture and truly try to understand it, then teaching English in Japan, for instance, is your best chance to do so.
Learning a new language – While a backpacker may pick up a few words of many different languages, someone getting an English teaching job in Thailand, for instance, will have a year, or more, to learn to speak a language fluently because they'll hear it all day long and be around people who can teach it to them. Imagine how beneficial that will be when you get back home and start interviewing for permanent jobs!
It's one big party – If your goal on your gap year is just to have fun and party as much as you can, then backpacking around the world will definitely allow you to do that. Not that people teaching EFL don't get to party either, particularly if they're in a big city in Asia.
How important is money? – While backpackers tend to travel around the world incredibly cheaply, often staying in places only slightly nicer than a hovel, and seeing and doing everything 'on the cheap', EFL teachers get paid to stay in a country and teach for a year. In fact, in many cases, they get paid quite well.
Do you want to have to worry about money for a year, or not have a care in the world? Will you be back home after a year with hardly a penny to your name, or home with several thousand dollars saved from your job teaching EFL abroad? One of the big reasons many people are now going the EFL route, is they don't want to start off their university life or their permanent careers absolutely broke.
How important is the experience for your future career? No matter whether you choose to be a backpacker during your gap year or an EFL teacher abroad, there's no doubt you will have an amazing experience — one you will look back on for the rest of your life.
If you're considering how useful your experience will be when it comes to finding a permanent job, however, look at it like a potential boss would.
Here's one resume from a person who took a 'gap year' and spent it traveling around the world, partying, having fun and meeting people. He visited 32 countries in 12 months, and loved every one of them.
Here's another resume from a person who took their 'gap year' and spent it teaching English in Shanghai to children and adults, while immersing themselves in the local culture. They also speak Chinese.
Which is more likely to impress a potential employer, and which is more likely to help you get a great job? Or does that not matter to you?