Siam Global House: Thailand's Best Home Improvement Stores
Siam Global House is one of Thailand's best Do-It-Yourself chains
If you're ever looking for home improvement supplies in Thailand and you're not in Bangkok, you might want to check out Siam Global House. A 100 percent Thai-owned do-it-yourself chain, Siam Global House stores are currently only in Isaan, but with 23 stores dotted all over the north-east of Thailand, if you're in that area of the country there should be one near you.
What makes Siam Global House so good?
Siam Global House do-it-yourself stores are awesome as they're massive and they sell everything you'd ever want in the home improvement/do-it-yourself market. Plus things you've probably never thought of buying — but decide you now want anyway.
Their mega-stores are similar to Home Depot or Loew's stores in the US, (although some of the Siam Global House stores are even larger) which is not surprising seeing as how Siam Global House's owner, Witoon Suriyawanakul, based his stores on them.
Now one of Thailand's richest men, Witoon Suriyawanakul is from a working class Thai family. He started off his career as a contractor, saved enough money to open a small building supply shop in Roi Et, expanded and expanded and he's never looked back.
What does Siam Global House sell?
As for what Siam Global House sells to make it Thailand's best home improvement store, it would be easier to name what they don't sell (although I can't think of anything?).
In fact, you'll find everything from cement and concrete to lighting and electrical supplies. Doors, bathroom fixtures and fittings, tiles and wooden flooring to paint, kitchen fixtures and bathroom fittings and supplies. Roofing supplies, furniture and garden furniture, gardening tools and on and on.
If you're in the market for electrical appliances, Siam Global House also has a huge selection of TVs, DVD players, washing machines and dryers, refrigerators and ovens — in fact, just about every kind of electrical appliance you'd need and for extremely low prices.
The company can also special order just about anything you need and, if you buy too much, or buy things that are too big or too heavy to transport, no worries, they'll deliver them for you.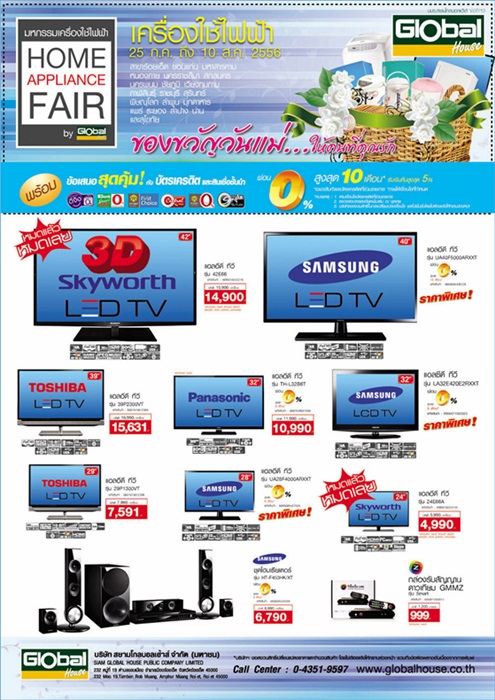 By the way, Siam Global House also has an excellent website. It's in Thai but, as they put up most of their sales flyers on the site and you can click on them to enlarge them, you can easily see by just looking at the photographs and the prices listed next to them, exactly what they have on sale and how cheap they are compared to their competitors.